Change is hard. People don't like change, but as did the three industrial revolutions before it, Industry 4.0 will deliver painful change and irrecoverable harm to those that don't adapt.
But what does Industry 4.0 really mean? Am I being left behind? How do I get started?
Those were the questions Keith Kersten, industry marketing team manager for Omron Automation, said he has heard repeatedly from concerned manufacturers, speaking in a conference session, "Fear Not the Smart Plant: Exploring Manufacturing Trends in the Digital Age", at Pacific Design & Manufacturing, running through Feb. 11 in Anaheim.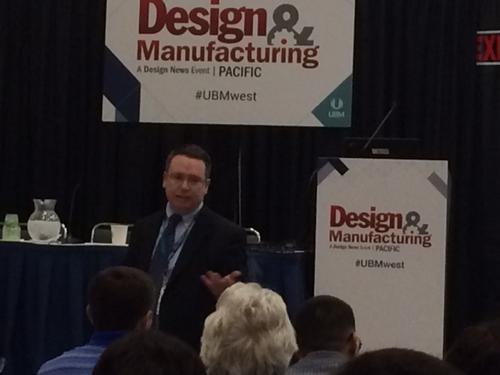 There are unknowns about Industry 4.0, of course, but inevitability isn't one of them. "Customers are affecting how we manufacture," Kersten said to a capacity crowd of around 60 manufacturing professionals, in reference to increasingly customized, short order consumer products and the demand for power of information through data transparency. "There's a lot of apprehension."
In addition to the customer-driven forces giving push to the smart, automated, changeable manufacturing of the future, product makers will require the power of information in order to know how and where to distribute scarcer resources, including skilled workers.
Kersten said the best entrée into Industry 4.0 and smart manufacturing is to make a plan and set both short-term and long-term goals that are aligned with your customer and manufacturing situation.
One reason why smart manufacturing seems daunting is the premise of going from high-volume/low-mix to low-volume/high-mix, Kersten said. "The frequent changeovers and accommodating a variety of products mean downtime, which takes away OEE and requires a total rethinking of Henry Ford's assembly line approach."
Most of our automation and robotics systems today are predicated on that century-old manufacturing method, but the flexible factory won't have linear flows. Meanwhile, collaborative robots are increasingly capable of dexterous, situationally aware assembly -- once the exclusive domain of human line workers.
As the line begins to blur and definitions of manufacturing are being shattered, Kersten said: "What is the factory anymore? You're not looking at production lines but the whole enterprise and the integrated value chain."
READ MORE ABOUT INDUSTRY 4.0 ON DESIGN NEWS:
Another reason to panic is the oncoming convergence of operational technology and information technology, which we've been increasingly covering here on Design News. That means going from discrete I/O to connected networks and the need to send data from the PLC on up to the business.
"This is where people are transitioning from device-level networks," Kersten noted. "So make 'connected' component choices. You probably won't be able to make a complete retrofit but start equipping with devices that are smart."
Besides figuring a way out of the industrial communications protocol entanglement, Kersten noted that the smart plant age needs as much cultural change as it does a technological shift. "Don't forget, it's about people, too. They have to embrace the [sudden flood of] data. The controls guys are going to need to go to lunch with the IT guys."
He declared, "It's time to start doing it." Kersten's recommendation is to identify a place to start, whether it's a production bottleneck or a quality issue or a high-maintenance trouble spot on the line.
The key is to start collecting production data and then attempt to analyze it through tools that are emerging and becoming available. "This is the way of the future," Kersten said. "Give the customers what they want."
Will Ng is a perfectionist who has been in business journalism for more than 15 years, many of which have been devoted to covering manufacturing, technology, and industry. A writer first, he loves to tell a good story and enjoys reporting on market trends and news.