Heavy construction vehicles are notorious gas guzzlers and contribute significantly to overall global fuel use. Now researchers at Purdue University say they have found a way to make the vehicles more fuel efficient through new hydraulic steering technology.
The technology, developed at Purdue's School of Mechanical Engineering, hinges on the ability to eliminate the valves typically used to direct the flow of hydraulic fluid in steering systems. Advanced algorithms and models are used to control the hydraulic pumps, creating efficiencies in vehicle movement and fuel consumption, according to the researchers, who published an abstract of their work online.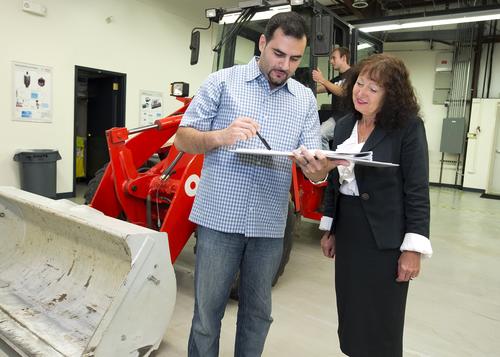 Naseem Daher, a fellow and PhD student in the School of Mechanical Engineering who co-developed the technology, told us the change provides a number of benefits over the standard two-valve system.
In a nutshell, the existing state-of-the-art hydrostatic steering system uses a pump as a flow source and a proportional valve as a control element. Most systems also require a priority valve to give the steering function priority over the other implements' functions. The above two valves introduce significant losses due to flow metering/throttling or energy dissipation into heat. The new technology uses a variable displacement servo pump as both the flow source and the final control element, thus eliminating the throttling losses.
Daher and Professor Monika Ivantysynova were the lead researchers on the project, which was conducted at the Maha Fluid Power Research Center.
By providing each actuator its own pump, the technology eliminates the need for valves. An actuator's motion is controlled by adjusting the displacement of the pump, Daher said. This allows a diesel engine to operate at optimal speed and thus helps conserve fuel.
The researchers tested the technology on a front loader and got solid results -- 15 percent fuel savings and a 23 percent increase in machine productivity. The total fuel efficiency increase during steering maneuvers was 43 percent, according to the researchers. The new technology also offers:
Improved steering flexibility and sensitivity under various operating conditions
Active safety features, such as stability control
Improved line-holding capability
The potential for autonomous machine operation