At the 2013 Americas Altair Technology Conference last week in Garden Grove, Calif., Altair introduced an application designed to improve wind tunnel simulation for evaluating a vehicle's external aerodynamics.
The Virtual Wind Tunnel is a part of the company's HyperWorks CAE simulation suite. It uses computational fluid dynamics (CFD) to model the effects of aerodynamics on vehicle features such as fuel consumption, engine cooling, vehicle stability, interior cabin noise, and even windshield wiper performance.
James Dagg, senior vice president of design/analytics technologies at Altair, made the announcement in an Oct. 2 speech laying out its software vision. In discussing how the development of products is changing and the increasing role played by simulation and optimization, he mentioned that a single tool that does everything is hard to use. I would add that they're also getting harder to find, since the definition of "everything" is getting larger. So is the number of design elements in a structure that must be simulated and/or optimized. For example, Dagg mentioned in his talk that Altair is expecting 100 million elements soon in structures.
Click the image below to view a photo gallery of the application.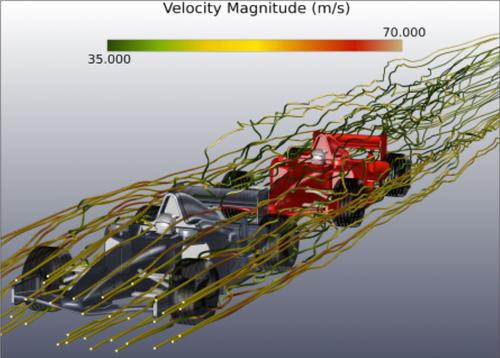 Altair is focusing on developing products for vertical markets. The HyperWorks Virtual Wind Tunnel, though aimed at the automotive industry, will likely also be useful in wind turbine development, architectural design, and construction. The highly automated and streamlined workflow process and high-quality CFD technology is designed to allow the application to predict an automobile's external aerodynamic performance faster and more accurately than others.
The company said in a press release that high-fidelity CFD-based wind tunnel simulations let engineers study different aerodynamic loads and can reduce the number of physical wind tunnel test experiments required in developing a vehicle. Benchmarking tests have shown that results from the Virtual Wind Tunnel's technology are very closely correlated to the results from actual wind tunnel tests. This depends to a large extent on Altair's AcuSolve, a fast, accurate, robust, and scalable CFD solver. Its advanced turbulence modeling uses steady-state and transient simulation to improve the accuracy and speed of flow field and flow separation. The fluid-structure interaction solution considers the flexibility of structures to give more realistic simulation and speed up meshing time.
The application takes advantage of other Altair technologies, such as advanced meshing. A fast, completely automated, unstructured mesher with boundary layers is included; volume meshing can be completed in less than two hours.
Both the user interface and the workflow are highly intuitive and streamlined. The application's setup process is highly automated. The simulation can be submitted to various high-performance computing systems from within the HyperWorks Virtual Wind Tunnel environment. This Altair video discusses how the engineering simulation and consulting firm Lx Sim used the Virtual Wind Tunnel to design an aerodynamic road cycling helmet to decrease drag and increase ventilation.
Altair is hosting a webinar Thursday, Oct. 17, on how to use the VWT for an external aerodynamics simulation. The webinar will demonstrate setup, analysis, and running of a simulation using real-life use cases.
Altair's open architecture HyperWorks CAE simulation suite is comprehensive. In August, the company co-hosted a webinar with Design News on drop test simulation -- a common method of evaluating the drop performance of electronics products. The webinar included demonstrations of Altair's drop simulation solution. Presenters discussed highlights of the automated steps, such as FEA model setup, drop analysis setup, results post-processing, and report generation.
Related posts: