Researchers continue to make gains in getting more energy out of solar cells with a new world record in efficiency of 44.7 percent achieved by a group of German and French scientists at the Fraunhofer Institute for Solar Energy Systems ISE, Soitec, CEA-Leti, and the Helmholtz Center Berlin.
Solar cell efficiency is the ratio of the electrical output of a solar cell to the incident energy in the form of sunlight. The new efficiency percentage (which was measured at a concentration of 292 suns) surpasses a previous result. In collaboration, the same groups developed a solar cell in May 2013 that achieved a 43.6 percent efficiency.
The new research means that 44.7 percent of the solar spectrum's energy, from ultraviolet through to the infrared, was converted into electrical energy, according to researchers.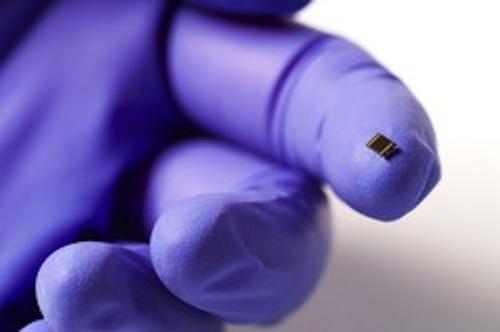 The team achieved the new level of efficiency with a four-junction solar cell that took them three years to develop, said Frank Dimroth, the project leader of the research at Fraunhofer ISE, in a press release on the Fraunhofer website. A four-junction solar cell means the cell has four p-n junctions or interfaces between two types of semiconductor material. Each junction is tuned to a different light wavelength, increasing the efficiency of the overall cell.
Specifically, the solar cell developed by researchers is comprised of four solar subcells based on III-V compound semiconductors for use in concentrator photovoltaics. The concentrator modules are produced by Soitec, which was started in 2005 under the name Concentrix Solar, a spin-off of Fraunhofer ISE.
"This world record increasing our efficiency level by more than one point in less than four months demonstrates the extreme potential of our four-junction solar cell design," André-Jacques Auberton-Hervé, Soitec's chairman and CEO, said in the press release. "It confirms the acceleration of the road map toward higher efficiencies, which represents a key contributor to competitiveness of our own CPV systems. We are very proud of this achievement, a demonstration of a very successful collaboration."
Key to the new technology that achieved 44.7 percent efficiency is a procedure called wafer bonding, which allowed researchers to connect two semiconductor crystals, Dimroth said. This allowed several cells made out of different III-V semiconductor materials to be stacked on top of each other, with single subcells absorbing different wavelength ranges of the solar spectrum. "In this way we can produce the optimal semiconductor combination to create the highest efficiency solar cells," he said.
Related Posts: