Another recent development in safety networks is the shift to intelligent devices. As well as offering greater control and flexibility, smart devices can also think for themselves when there is a compromise in safety. "You can put a safety device and safety I/O on the network and the safety signal doesn't have to go back to control," Gary Thrall, a product manager at Bosch Rexroth, told us. "The device instantly responds through its own intelligence. The difference is milliseconds, but in safety, milliseconds counts."
One of the side benefits of combined control and safety is the potential reduction in energy consumption. D'Silva points out that the Ethernet protocols Profisafe and Profienergy can be used together to save energy, producing a green benefit from networked safety. "Often in plants, when there's a break, a weekend, or a changeover, the machines are not turned off," D'Silva said. "Profisafe and Profienergy can be used together to shut down machines during unproductive periods."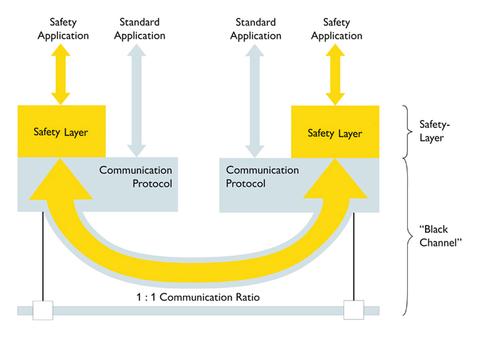 Greater efficiency through networked safety
One of the big reasons the automation industry moved quickly to integrate control and safety on Ethernet was the improved efficiency of a single network and the significant reduction in cost it delivered. "Integrating safety through a black channel network means that safety can be managed more efficiently," Kevin Colloton, safety technology manager at Rockwell Automation, told Design News. "More information can be given to operators to tell them where the problem is. Plus, safety becomes easier to implement, quicker to implement."
Hackers are now targeting safety networks
These days, anything that is networked is vulnerable to hackers. Networked safety is no exception. "If your threat is somebody who wants to cause you upset, embarrass you, and show that you can't be trusted, they will go after the safety system," Eric Byres, chief technology officer at Tofino Security, a Belden company, told Design News.
Byres noted that tools to hack into a safety system have been showing up at hacker conferences. He pointed to a toolkit offered by a Russian company for $2,500 that is specifically designed to attack networked safety systems. While that cost may seem dear to your bedroom hacker, Byres views it as little. "If a criminal organization wants to extort money or steal intellectual property and sell it, the $2,500 is chump change."
Byres recommends that companies look to their greatest vulnerabilities rather than trying to bulletproof their entire safety network. "Companies need to look at what would cause them the most pain. Take a paper plant. You don't care if hackers attack your chips, but it they attack the black liquor, you have a problem."
Related posts: