A New Jersey company has been granted a patent to design the first solar-powered artificial retina, an invention that would preclude the current need for external hardware and give a patient the possibility of near-normal vision.
The US Patent Office has awarded patent no. 8,433,417 to Newcyte Inc. for a carbon nanostructured artificial retinal implant that runs on energy harvested from solar energy. Natcore Technology, which specializes in solar technology and is based in Red Bank, N.J., purchased Newcyte in 2009.
Dennis Flood, co-founder and CTO of Natcore, told Design News he's been considering the design of a self-powered artificial retina for more than 10 years, to overcome some of the limitations of current implants, which include requiring the patient to have sight or the use of a prosthesis and external hardware.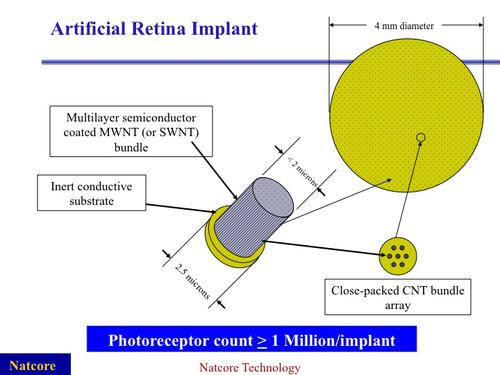 Other artificial retinas currently used don't restore someone's sight to full acuity, leaving a person only with the ability to detect motion or to distinguish between light and dark, he told us in an email.
The artificial retina designed by Natcore requires "no external components that need batteries or antennas," he says. "Moreover, it would work as long as the patient's nerves are alive and has the potential to be wavelength selective, so that color vision could be reintroduced to people whose only prospect now is a cloudy black-and-white."
As designed by Natcore, the device would be a flat, round disc about 4 mm in diameter, or about the size of a pencil eraser, according to the company. Natcore's patented design is based on an array of carbon nanotubes that are grown vertically on a substrate. They are coated with a semiconducting material that effectively wraps them in a solar cell. The tips of the nanotubes are exposed and arranged to extend into the eye's ganglion nerves. "The carbon nanotubes enable scaling the artificial rod or cone replacement to the proper size and are convenient to use. Other nanorod technologies might be possibilities, as well. We will sort that out once the concept is in actual development."
The retina itself works like this: Light enters the eye, and the lens focuses it onto the artificial retina. This causes a voltage buildup that fires the nerves, acting like a synapse to send a signal to the brain. This is where the carbon nanotubes become key to the technology, acting like the eyes' rods or cones, photoreceptors that convert light into signals to stimulate biological processes.
The next step for the technology is a development program to move to the pre-clinical stage and ultimately to a clinical trial stage, Flood says. With suitable funding, he projects, Natcore could reach the preclinical stage for the technology in two to three years.
Related posts: