Mobile phones have done a lot for helping parents keep track of where their children are, but what about younger children for whom mobile devices aren't a practical option?
Inspired by personal experience, a Taiwanese entrepreneur has come up with an answer to this problem: Wearable devices that can help parents locate their kids if they wander off, and aid in the location of children before they go missing permanently.
Guardian is the brainchild of Johnny Fang, created through a startup called BeLuvv. The devices -- which children wear on their body or clothing -- use Bluetooth technology to transmit their location to a smartphone in case a parent or guardian loses track of him or her.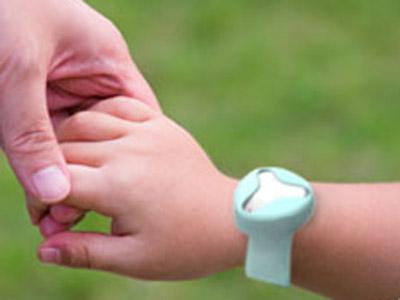 Fang was inspired to invent Guardian when his own child went missing from a department store and it took him 30 minutes to locate him in a nearby bookstore, Viv Lu, a BeLuvv spokeswoman, told Design News in an email.
Within that half an hour, which felt like a lifetime, Fang was absolutely helpless. He kept blaming himself for not paying better attention. Fang believes that with the aid of technology, the tragedy of missing children can be turned into a thing of the past.
The keys to the devices -- which come in a buckle design that can be worn on clothing or a bracelet that can go around a child's ankle or wrist -- are Bluetooth 4.0 technology and an iOS-compatible smartphone application, Lu said. Guardian also uses Bluetooth Low Energy (BLE) and a replaceable button-cell lithium battery, CR2032, that's rated at 3.0V for power and can last from four months to a year before being replaced. BLE -- used in sensors and low-power devices -- reduces the power the devices need to operate while maintaining Bluetooth's typical communication range.
Parents or guardians use a smartphone application to set up a variety of parameters for the devices, including a safety perimeter with a range of zero to 230 feet, Lu said. The Guardian device will send an alert to their smartphones if a child wanders too close to this perimeter so they can retrieve them. There is also a family co-guarding feature that allows family members and friends of the child to also install the application, letting parents know if their child is with one of his or her trusted guardians.
In the event a child wearing a Guardian device does go missing, the device -- via the Bluetooth-based cloud network -- sends the child's location to his or her parents. BeLuvv also envisions the development of a larger Guardian network with the installation of the app on as many devices as possible to help create a larger network of people involved in finding missing children. If a missing child passes by a person using the app, it can send an alert to parents or others looking for the child with location information, Lu said.
Guardian devices are currently available by preorder through the BeLuvv website for $24.95 and will be sold at retail (starting Nov. 30) for $29.95. BeLuvv also is working on an Android-compatible version of the devices.
Related posts: