A transparent polyurethane is the basis for a next-generation cello developed by Bayer MaterialScience that adds the experience of visual and digital elements to the sound of the traditional string instrument.
The company has developed a prototype Cello 2.0, an electric cello it will exhibit at the K 2013 international plastics trade fair in Germany next month, out of a plastic material it's developed called aliphatic polyurethane.
Click on the image below to check out the cello, as well as other instruments that have been fabricated using new methods, including 3D printing.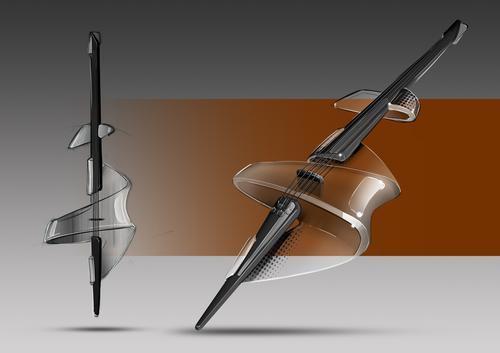 The material allows a visible entry into the inner workings of the cello itself, providing a new visual experience in addition to the usual auditory one, Melanie Dick, innovation manager for Bayer MaterialScience, told Design News. "We are really going to the dreams of musicians that music won't just be hearable but visible," she said. "The advantage of this kind of material is that we achieve a transparency that will allow us to project some graphics on it and integrate electronics" into the instrument.
The material also allows the instrument to be more lightweight and thus easier to carry and play than a traditional cello, and gives the designer more artistic freedom to play with the shape a cello usually takes. "You have design freedom to customize your own instrument," Dick told us. "The individualistic aspect of the cello was really important to us."
One of the advantages of the process of making this type of polyurethane versus other plastics for Cello 2.0 is that it uses a cold casting method. This means materials aren't heated to a high temperature during production, allowing for the integration of electronics into the body without worry they will melt or be damaged, Dick told us.
Bayer worked with a number of partners to design and fabricate Cello 2.0, including RAMPF Gießharze, which did the injection molding process for the prototype, and Teams Design Company, which created the instrument's ergonomic shape.
In terms of process, the design began with the neck and fingerboard, which are typical parts of an electric cello; sound and visualization components were then integrated into these parts. The belly of the cello that surrounds these parts is made of polyurethane cast resin, while the larger part of the body is made of the aliphatic polyurethane.
Another Bayer partner, Zonewicz Faserverbundtechnik, worked with the Teams Design designers to ensure that the sound box was properly connected with the functional body of the cello. Some of this work included optimizing the vibrational response of the materials to optimize the cello's sound, according to Bayer.
Bayer also worked with another lighting and media partner, TLD Planungsgruppe, to experiment with different electronic and optical experiences inside the instrument. One variation included the integration of different LEDs and mini video projectors in the neck and fingerboard to display graphics or videos on the cello's transparent surface.
Bayer's ultimate goal with Cello 2.0 is to experiment with the possibilities of integrating new visual technologies into the instrument, Dick said. The company hopes to find partners to devise new innovations at K 2013. "We really want to communicate with people and find the best partners to develop something more and share ideas about what people can bring to this design."
Related posts: