What does Dr. Victor Frankenstein have in common with engineers? You know you know the answer: It's the ability to bring back objects from the dead.
The doc's most famous example is that big monster, of course, but who knows what else he reanimated in his lab? Frankenstein's toaster? Frankenstein's microwave? The list is likely to be endless.
Like a modern-day engineer, Frankenstein didn't just throw out a crappy product or demand his money back when something didn't quite live up to his expectations. No sir, he applied his technical prowess and problem-solving ability to fixing it.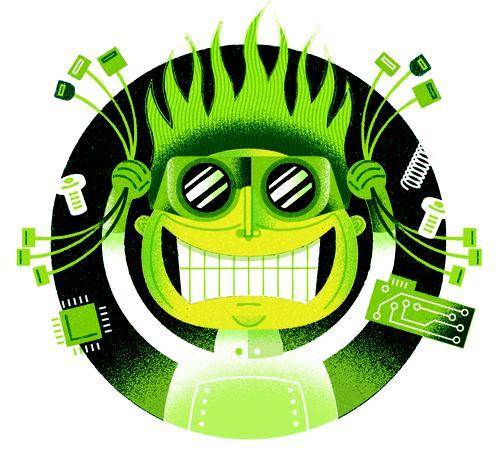 So, in honor of Dr. Frankenstein and Halloween, Tektronix and EE Times have teamed up to recognize this special ability of engineers and mad doctors to get things to work. And as our thanks for the countless products you help keep out of landfills each year, we are giving away a Tektronix MS02024B scope worth $3,650 to one lucky engineer. The winner will be announced on -- you guessed it -- October 31, 2013.
All you have to do is describe a situation in which a product didn't quite live up to expectations (or outright failed), and you successfully repaired, redesigned, or even reanimated it.
Here's how to enter:
Describe in 1,000 words or less a compelling example of a product that you tore into to fix or improve it.
Describe the circumstances that drove you to open it up and investigate its inner workings. Tell us whether you think the problem was related to a design or manufacturing screw up or possibly misuse. If you can, speculate on the choices or tradeoffs that were made and why.
Most importantly, tell us how you diagnosed and fixed the problem. Was it an entire circuit redesign or a simple duct-tape-and-rubber-band-it-together fix? What new constraints, added cost, or other tradeoffs did your work introduce?
Include any relevant supporting documentation: photos, charts, sketches, video, and data that help illustrate your story.
You'll get extra credit if your story makes us groan or laugh out loud -- preferably both.
Register with EE Times, if you haven't done so already, and email your entry to Caleb Kraft by October 26, 2013. Include your EE Times user name, the email you used to register, and a short bio of yourself (less than 50 words).
Need a sample to get your gray cells working? Check out The case of the flat panel TV scream, in which an intrepid engineer scores a free 36-inch panel flat screen TV by knowing how to fix it.
All qualifying entries will be published on the new Frankenstein's Fix blog on EE Life and will be entered into a drawing for a Tektronix MSO2024B digital oscilloscope. Full contest rules are located on the following page.




0
Science fiction author Isaac Asimov may have the best rules for effective brainstorming and creativity. His never-before-published essay, "On Creativity," recently made it to the Web pages of MIT Technology Review.

1
Much has been made over the potentially dangerous flammability of lithium-ion batteries after major companies like Boeing, Sony, and Tesla have grappled with well-publicized battery fires. Researchers at Stanford University may have come up with a solution to this problem with a smart sensor for lithium-ion batteries that provides a warning if the battery is about to overheat or catch fire.

11
In this new Design News feature, "How it Works," we're starting off by examining the inner workings of the electronic cigarette. While e-cigarettes seemed like a gimmick just two or three years ago, they're catching fire -- so to speak. Sales topped $1 billion last year and are set to hit $10 billion by 2017. Cigarette companies are fighting back by buying up e-cigarette manufacturers.

4
Advertised as the "Most Powerful Tablet Under $100," the Kindle Fire HD 6 was too tempting for the team at iFixit to pass up. Join us to find out if inexpensive means cheap, irreparable, or just down right economical. It's teardown time!

1
The increased adoption of wireless technology for mission-critical applications has revved up the global market for dynamic electronic general purpose (GP) test equipment. As the link between cloud networks and devices -- smartphones, tablets, and notebooks -- results in more complex devices under test, the demand for radio frequency test equipment is starting to intensify.

Focus on Fundamentals consists of 45-minute on-line classes that cover a host of technologies. You learn without leaving the comfort of your desk. All classes are taught by subject-matter experts and all are archived. So if you can't attend live, attend at your convenience.
Next Class: 10/28-10/30 11:00 AM
Next Class: 10/28-10/30 2:00 PM
Sponsored by Gates Corporation
Next Class: 11/11-11/13 2:00 PM