Scientists are working on a number of ways to improve battery design, in particular for electric vehicles (EVs) and for large-scale storage of renewable energy sources.
One of the latest projects is the design of a water-based flow battery by researchers at GE Global Research and Lawrence Berkeley National Laboratory that could provide enough range for an EV car to drive between New York City and Washington on a single charge -- an unprecedented distance, according to researchers.
Click on the photo below to check out a slideshow of some battery designs that could end up in an EV or as part of the electricity grid in the not-too-distant future.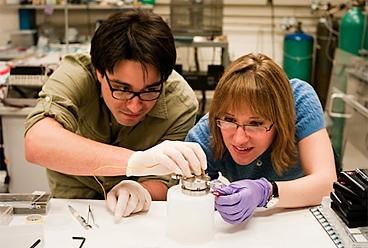 The battery also could be 75 percent less expensive than EV batteries available today, due to the materials it uses, said Grigorii Soloveichik, who leads the project at GRC, in an article on GE's website. Soloveichik also is the director of the GE-led and Department of Energy-funded Energy Frontier Research Center. "The DOE wants a battery that can power a car for 240 miles," he said. "We think we can exceed that goal."
The design is based on a water-based solution of inorganic chemicals that can support the transport of more than one electron at a time. This allows the battery to provide high energy density and thus be more powerful, enabling cars using it to travel longer distances.
Flow batteries are a type of highly rechargeable fuel cell that stores electrical energy in the form of liquid chemicals. The batteries are so named because the chemicals are made to flow past electrochemical conversion hardware and then are stored externally in low-cost tanks that can vary in size.
This feature makes them safer than lithium-ion designs (which have caught fire on more than one occasion) because the discharge and recharge occurs in electrochemical cells that are separate from the energy-storing tanks, Soloveichik said.
The tanks of flow batteries also can be very large, permitting the designers to decide on the size of the electrochemical conversion hardware for setting peak-power capacity and the storage tanks that set the energy capacity. This makes them well-suited for large-scale storage of renewable energy from wind and solar sources.
To compare flow batteries to solid-state batteries in solid-electrode batteries, such as those in cars and mobile devices, power-conversion hardware and energy capacity are packaged together, which means these types of batteries can only maintain peak discharge power for less than an hour.
GE and Berkeley Lab researchers are currently working to successfully demonstrate this new flow battery and hope to come up with a viable prototype over the next year.
Related posts: