As a surfer myself, I know that creating a custom-made surfboard is both a precise and creative science, as well as a painstaking laborious process that takes a lot of time and energy.
Now 3D printing is poised to take the actual handmade production aspect of that out of the equation, with companies like Chicago-based startup MADE Boards emerging that promise 3D-printed quality custom surfboards, wind-surfing boards, and stand-up paddle boards.
I must admit I'm a skeptic about using 3D printing to make a surfboard, being the owner of two custom-made boards and someone who's taken a pounding or two from strong waves.
My first thought is to wonder whether these 3D-printed boards would be strong enough to withstand the often-severe conditions of the sport, and my second is what happens to the custom-board shaper -- an artist in his or her own right -- and the actual craft of shaping a board by hand when 3D printing begins to take over the production process.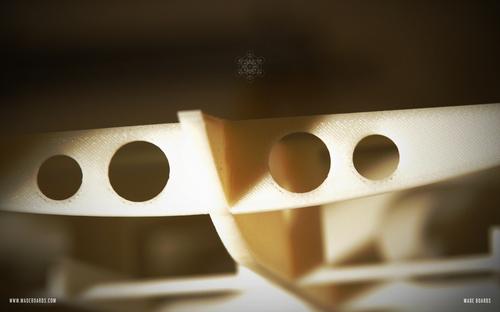 I interviewed Shanon Marks -- the co-founder of MADE Boards -- via email to find out more and have my questions and concerns addressed. He founded the company with Mark Laughlin, and is himself an avid sailor, windsurfer, and wave surfer. Marks explained to me how the process of designing and producing a board via the MADE system works, and the philosophy behind the company.
The company was formed for two reasons -- to ensure people ride boards that are best suited to their needs, and also to create a process that produces less waste, and thus is more environmentally friendly than mass surfboard production, Marks told us. He continued:
We know there's a better way to build boards, and for that matter, most things. There's too much waste associated with traditional, subtractive construction processes and our approach removes polystyrene, foam core blanks without sacrificing performance. We only use the exact amount of material we need to create our boards -- and it's all on-demand, removing the burden of inventory, and simplifying logistics. The environmental benefit is immense.
The first step to custom-designing a board from the company is to download a mobile app called VOLUME to a smartphone, and using a case the company provides to protect it from water, take the phone and app surfing (or wind surfing or stand-up paddle boarding). The app starts monitoring the session, collecting data around GPS data, speed, acceleration, deceleration, duration, starts, stops, all cross-referenced with atmospheric, and weather data, Marks said. He told us:
The whole system is built on a social platform and encourages participants to explore the habits and preferences of other riders. VOLUME, and the customization engine on our site, is the primary design influencer. As you ride, it takes note of large-scale patterns and helps you design the perfect board for your style, expertise, and local conditions, acting as your personal shaper.
People can also further customize the board according to their preferences, but the app "takes the guesswork and complexity out of the process," he said.