Scientists at the University of Oxford have discovered a zinc-based material that expands under pressure rather than contracting, as is normally the case.
Andrew Goodwin, an Oxford chemistry lecturer and the lead researcher on the project, told us in an email that this rare property -- negative linear compressibility -- could make the material viable for artificial muscles or touchscreen monitors. Oxford researchers began working on materials with this property about five years ago and made significant progress in the last two years.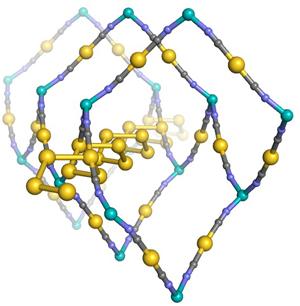 Goodwin said there are two factors that drive the newly discovered material's "weird behavior" -- flexibility and geometry. On the first point, the material has an atomic structure similar to scaffolding, but with a twist.
We have zinc atoms at the nodes of the scaffold, and then nanometer-long gold-containing linkages connecting them together. In the macroscopic world, scaffolding is strong because there is a lot of cross-bracing to hold the whole system together. We go for the opposite approach: our systems are deliberately left under constrained so that they can change their angles really easily in response to changes to temperature and/or pressure. In this particular system, we even have some atomic-scale springs that allow much larger deformations than had ever been imagined.
The material's atypical geometry borrows from previous research that shows that a structure as simple as a honeycomb can produce negative compressibility. "Technically speaking our material has a structure related to that of quartz, but really there is a very strong similarity to a simple honeycomb," in that the components "reduce their volume by expanding in one direction," Goodwin said. "So we're really just exploiting that same idea by engineering it into a material on the atomic scale."
The material is not difficult to make -- a zinc salt and a gold-containing salt are mixed in a water-based solution. However, "gold is the cheapest ingredient," so mass production would be expensive at this point. "We're working on some cheaper alternatives, such as by replacing gold with copper."
If production costs came down, the material could have applications in the development of things like "highly-sensitive pressure monitors for biomedical, sonar, and aerospace applications, and nanoscale actuators -- devices like touchscreens that exploit mechanical responses to carry out particular functions."
In the meantime, Goodwin and his team continue to experiment with the material in a number of ways, including pairing negative compressibility with other chemical and physical responses to "create multifunctional materials that exhibit equally unusual magnetic, electronic, or dynamic responses to changes in pressure." Researchers are also trying to develop "negative sponges" -- materials that shrink when they absorb moisture. "This might sound somewhat banal, but actually moisture-induced swelling is a major problem for concretes and other building materials," he said. "If part of the concrete mix were to contract -- rather than expand -- on taking up water, then the problem may well be solved."
Related posts: