As renewable energy sources like wind and solar become more widely used, the next step is to find a way to make them a viable part of the electricity grid. To that end, researchers are devising batteries that can store energy from these sources, and a research effort between Stanford University and the Department of Energy (DOE) has come up with the latest flow-battery design that it claims has higher energy density than others being devised.
A research team led by Yi Cui, an associate professor in the Department of Materials Science and Engineering at Stanford, has developed a new lithium-polysulfide flow battery with an energy density of between 170 Wh/kg and 190 Wh/L and a lifespan of up to 2,500 cycles -- results that are high comparatively for similar batteries being designed for renewables, Cui told Design News in an email. The project is a joint effort by Stanford and the DOE's SLAC National Accelerator Laboratory.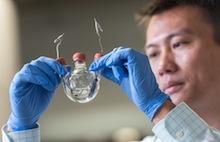 Due to its high energy density and use of inexpensive materials that are easily available, the battery could serve as a model for a low-cost, long-life battery that would allow renewable sources of energy to play a larger role in contributing to the electricity grid, Cui told us. "One electrode is solid and the other is liquid by flow," he said, describing how the battery is designed. "We eliminate the use of expensive ion-selective conducting membrane. The high energy density and easy device fabrication will prove that the technology can potentially be very promising for large scale energy storage."
Because solar and wind power are dependent on environment conditions, they often fluctuate widely, something the current electric grid can't support -- a problem called "intermitten power." Currently, these sources make up nearly 20 percent of grid power, but to contribute more, storing excess energy in batteries and then discharging it to the grid when there is an energy drop seems to be the way forward.
To that end, flow batteries -- highly rechargeable fuel cells that store electrical energy in the form of liquid chemicals -- like the one Cui and his team developed seem to work the best for renewable energy storage. This is because the chemicals are flowed past electrochemical conversion hardware and then is stored externally in low-cost and potentially large tanks that can vary in size. This allows the designers to easily scale their tanks, pumps, and pipes that are needed to handle large capacities of energy.
The battery designed by Cui's team takes a different approach to typical flow batteries, however. They pump two different liquids -- typically high-cost liquids due to their use of rare materials -- through an interaction chamber where dissolved molecules undergo chemical reactions that store or give up energy. The chamber contains a membrane that only allows ions not involved in reactions to pass between the liquids while keeping the active ions physically separated.
The Stanford/SLAC design differs from this in that it uses only one stream of molecules and does not need a membrane at all, Cui said. Moreover, its molecules mostly consist of the relatively inexpensive elements lithium and sulfur, which make it less expensive to produce.
The Stanford/SLAC work is similar to a project at Harvard University supported by the Department of Energy's Advanced Research Projects Agency that developed a flow battery leveraging organic materials found in plants that can be synthesized artificially for a relatively inexpensive price. Ambri, a startup formed out of MIT, also has developed a liquid-based battery it said is the answer to the storage problem for renewables.
Cui said the battery his team developed has outperformed others in terms of energy density, but the various projects are more complementary than competitive to meet the demand of renewable energy storage.
In the meantime, Stanford and SLAC researchers continue to work to improve the lithium-sulfate battery system so it can perform better on a larger scale. Currently, there is no time frame for when it might be commercially available, but mass production would likely not be a problem "as there is no complicated processing involved," Cui said.
Related posts: