Wine making is big business, and the process is performed all over the world in almost every country. Companies take great pride and care in maintaining their respective vineyards, with science and art playing a major role in grape yields and flavor.
A number of factors contribute to the grapes' overall flavor and yield, including soil make-up, altitude, climate, terrain, and even hill slope.
Taste is also a factor in the crops' yield, which is measured either in the amount of grapes per vineyard surface or in the amount of the volume of wine per unit surface. Wineries differ in their processing techniques, which is dependent on what variety of grape is being used for their respective styles of wine. Those varieties determine how much wine can be made from each surface unit area of the vineyard, which makes it nearly impossible to gain an exact yield count for conversion to the wine's actual volume.
The traditional way to get an estimation of how much the total yield might be is to use personnel to physically count each grape on each vine respectively, which is costly and could potentially damage the crops.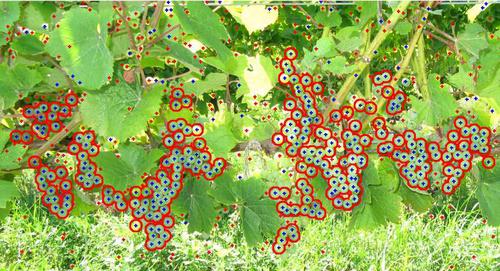 To overcome this obstacle, roboticists from Carnegie Mellon University's Robotics Institute have designed a system that uses computer vision to count grapes for an exact crop yield.
The robotics team, led by Stephen Nuske, developed the automated system using an HD camera that takes five high-resolution pictures every second while it's mounted on an off-road vehicle. A lighting system rigged on the vehicle provides tactical illumination directed at the vines, which is done at night to eliminate random sunlight patterns that can interfere with the teams system.
Additionally, a laser scanner is mounted alongside the HD camera, which images the grape/vine clusters in finer detail and is capable of detecting grapes of only 4 mm in diameter. The data collected, about one terabyte overall, is then fed into a computer-vision system that uses specialized algorithms to pinpoint the grape-clusters derived from both the pictures and scan.
This system converts the total berry count into the harvest yield within a margin of error of 9.8 percent of the overall crop weight per vineyard row! That is incredible when compared to the estimates given using human counters, which have an accuracy rate to within 30 percent of the total harvested weight.
The roboticist's system also provides a 3D map based off of the laser scanner's imaging system, which can show areas that are thin or thick, allowing vineyard workers to take the necessary action to promote healthy growth. The team hopes to refine their computer-vision, which can also be mounted to ROVs for a truly automated system, for wineries (and other berry producing farms) sometime next year. It begs the question, though, whether it will actually be adopted for use in vineyards, and if so, will field workers lose their jobs?
Related posts: