Right after we told you about a 3D printed analog camera created by a French design student with a MakerBot, I found out that another young designer, this one in New Zealand, 3D-printed a speaker for his home audio system. Not only that, but this is a multi-material design made with the only known printer that can do that today: the Objet Connex 3D printing system from Stratasys.
The New Zealand designer, Simon Ellison, spent nine hours printing the speaker components and three hours cleaning off their support structures, according to his post submitted to designboom.com and his listing on behance.net. Of course, not all parts that go into the "expose" speaker are 3D printed using the Objet500 Connex printer and durable plastics. The speaker's housing is made of lathe-turned glass, which gives the design its name. The glass housing also provides visual access to the speaker's components. Other components were made mostly of metal, such as the terminals and the backplate.
Click on the image below to start the slideshow.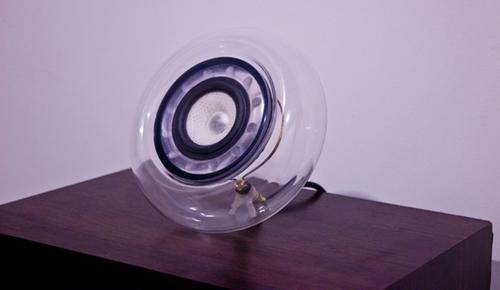 In keeping with the theme of transparency, the main Connex 3D printer material Ellison used is VeroClear, which simulates transparent shatter-resistant thermoplastics like polymethyl methacrylate (PMMA). This formed the material of the stand, frame, cone, and dust cap. VeroClear was also combined on the fly during printing with Tango Black, a rubber-like material. This combination is what Stratasys calls a "digital material," in this case FSX9085-dm, which was used in the grommet and spider.
After the three-hour cleaning process, Ellison formed the speaker driver assembly by combining it with a Neodymium magnet and copper-wrapped coil from a traditional driver, and wiring it. The completed mono speaker was then placed inside the glass housing, which has an RCA terminal.
Ellison's post and listing say that he created the speaker design using 3D printing in part to be able to make "complex and structurally intricate" details. That sounds like one of the main reasons often cited for using 3D printing in design: the ability to create unusual, complex, and sometimes intricately structured parts that are impossible to create with subtractive technologies.
Using the multi-materials printer meant that fabrication was faster than if the designer had used separate materials for different parts printed separately and then assembled them. Leo Marius's MakerBot-created camera took 15 hours to print, which is not surprising considering how many different parts there are and how simple most of the shapes are, as well as the much cruder look. With fewer parts but a more complicated printing process, and much higher quality, nine hours for a one-piece complex structure made of two materials doesn't seem so bad.
Objet Connex 3D printing systems are designed for prototypes and models, as well as manufacturing some small end-use production parts. Two materials are combined during printing from separate materials in two different cartridges, so one material goes to one part of the object and another goes to another area of the same object. They are not actually "blended." An algorithm determines the jetting pattern, resulting in the specific materials' locations.
Related posts: