Fiber optics is an area of engineering that promises the world more data at faster speeds.
The idea is, rather than using wires to send data back and forth, fiber optics can be used to allow data to be sent at much higher rates. Wires having a resistance in them while the fiber-optic cables offer an almost resistance-free path for light waves to travel on. They typically work by sending light waves with embedded data into a transparent core. Around this core is another transparent material except with a lower index of refraction. Then, using the principal of total internal reflection, the light waves are kept inside the lines and the data embedded within the light waves can be sent successfully.
Many researchers have pondered ways to increase the distance in which data can be sent using fiber-optic cables. The length of travel the beams can be sent is governed by the power, which is used to send those light beams. However, when increasing power in a fiber-optic line, the light waves tend to interact more with the material of the lines. This creates noise, which can corrupt the data and make the communication unreliable. Therefore, researchers have mainly been focused on creating a way to transmit data while also eliminating the noise.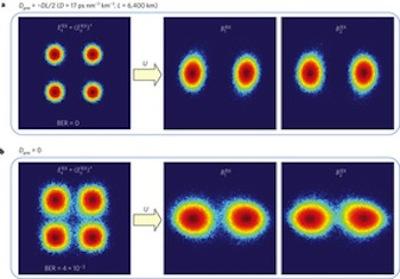 Suggestions have been made to eliminate noise from the communication lines, but they have not been the most reliable methods. One idea that has been introduced was a method that would use sub-length stations, or links, that would undo the noise that has been introduced. In order for these to work, they would have to be installed midway through the lines channel, which for an application such as trans-Atlantic communication could be troublesome.
An alternative approach that has been thought of and tested is a method that involves the use of phase conjugation. It works by sending data through the fiber-optic cable, but also with its phase conjugate. In doing so, any noise introduced within the transmission will then be canceled out at the receiving end. The idea works on the same principal as noise-canceling headphones.
The technique has been tested and promises bandwidths four times faster than the absolute best that can be offered today. Transmitting the data over 12,800km of fiber-optic cable, researchers were able to achieve a data rate of 400 Gbps. For comparison, Google's "Google fiber" program offers broadband connections at 1 Gbps. Using the twin transmission technique, greater distances can be covered while errors are more likely to be avoided. The research is still relatively new, therefore there is no set date or idea of when this tech could be introduced to the world for use.
Related posts: