GrabCAD, provider of a cloud-based collaboration environment for mechanical engineers, has partnered with Autodesk to bring its design tools -- AutoCAD 360 and Fusion 360 -- online in GrabCAD as part of the GrabCAD Toolbox, which offers cloud-based access to third-party design tools.
The move is the first time 2D or 3D design and editing tools are available through GrabCAD. This allows its community of 700,000 engineers access to Autodesk's AutoCAD tool for web-based and mobile devices and next-generation integrated 3D industrial and mechanical design tool, respectively, directly from the cloud-based collaboration environment.
Perhaps more significantly, the move embraces a more community-oriented, web-based approach to design that could help change the way designers work together on projects and solidly bring partner lifecycle management (PLM) to the cloud, Keith Perrin, senior product manager for Autodesk, told Design News in an email.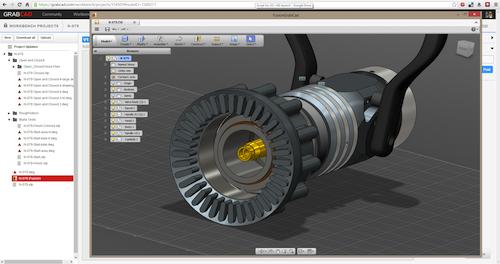 "Today there's an important movement underway that's changing the way people develop their ideas and work together," he said. "The movement promises to deliver significant benefits to companies involved in product design, development, and manufacturing."
By supporting this move by integrating Autodesk tools into GrabCAD, the partnership "allows designers to more easily design, share, and work together without having to rely on difficult CAD translations, email, or complex and expensive IT integrations," Perrin told us. "Now, when you need to edit a model, the ability to do so is at your fingertips and seconds away."
The move also gives designers more choice in which tools they use to create models by leveraging the cloud to facilitate integration of different vendors' offerings, something that was previously complex to achieve. "Traditional collaboration tools are typically tied to a specific CAD/PLM vendor or not connected at all," Perrin said. "The complexity of more traditional tools makes integration something that only expensive consulting and IT could solve. The result is restricted customer choice."
Specifically to use the new capability in GrabCAD Workbench, users can launch the apps they sign up for in Toolbox. When they leverage AutoCAD 360 from within the environment, they can "edit 2D files right in the browser, including collaborative editing where multiple users can see and edit a drawing," wrote Rob Stevens, vice president of sales of marketing at GrabCAD, in a blog post on the GrabCAD site.
Users also can launch Fusion 360 from within the workbench to edit their 3D models, then save their edits back to GrabCAD. Further, they can publish the finished model to the public GrabCAD Library, which already offers thousands of 3D CAD models to community members.
Related posts: