Ever wondered what you look like on camera from a kilometer away? Now you can find out, because scientists at Heriot-Watt University in Edinburgh, Scotland, have developed a camera system capable of capturing precise 3D images up to a mile away. The new system is accurate enough to detect subtle millimeter-depth changes, and its 3D object detection ability IT easily surpasses standard 2D camera technology.
The system was produced by a study led by Professor Gerald Buller from Heriot-Watt's School of Engineering and Physical Sciences. The team has taken the time-of-flight technique already in use in several autonomous machine vision applications and upgraded it to allow for long-range image detection. The technique traditionally uses a laser beam that is bounced off an object and recaptured to measure the time it took to travel back to a detector. However, the new system uses low-power infrared pulses to measure pixel-by-pixel travel time off of a distant object. The measurement of individual photons allows the system to process an entire image while accounting for depth changes at the millimeter scale.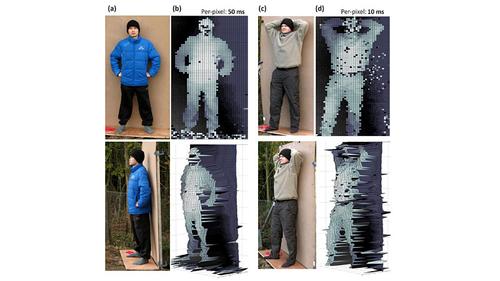 By using infrared, rather than higher-frequency laser beams, the team was able to achieve imaging of "uncooperative objects" -- objects that would not reflect laser pulses easily. The researchers chose a beam with a wavelength of 1,560nm -- longer and redder than visible light but safe for the human eye.
"Our approach gives a low-power route to the depth imaging of ordinary, small targets at very long range," Dr. Aongus McCarthy, a project group member and research fellow at Heriot-Watt, said in a press release. "While it is possible that other depth-ranging techniques will match or out-perform some characteristics of these measurements, this single-photon counting approach gives a unique tradeoff between depth resolution, range, data-acquisition time, and laser-power levels."
As of now, the team believes the primary use for the system will be to monitor static, manmade objects. Faces in the image above are distorted because human skin is not a suitable reflector for the low-power infrared light. The team is also working on making the technology available for outdoor vegetation monitoring and rock movement detection to prevent environmental hazards. McCarthy said that, with a few hardware and software changes, the system will be able to detect the speed and direction of objects while extending its range up to 10 kilometers -- all within the next five years.
Related posts: