A British company called X-Wind is envisioning a new way to power electric railways through a series of aeronomically designed, vertical-axis wind turbines with a small footprint and potentially higher power output than the horizontal wind turbines typically used today.
The vision of X-Wind chairman and CEO Michael Blaize, an aerodynamic expert who has worked in Formula 1 racing and in the development of large-scale wind turbines, is the X-Wind80. The first prototype turbine will soon be tested in the field, and could bring a renewable source of power not only to railways, but to any areas where there is wind and limited space, restricted access, or noise considerations, Stephen Crosher, commercial director of X-Wind, told Design News in an interview.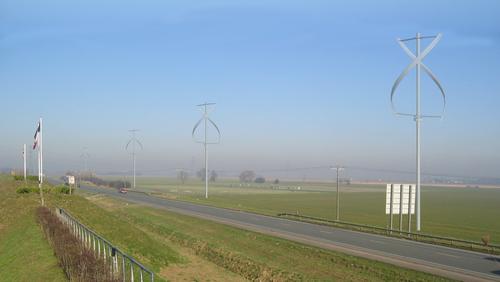 "We will be able to compete and outcompete any other similar scale of wind turbine on the market for any suitable site," he told us. "Our advantages over other wind turbines include higher performance, a lower cost of energy, and better returns on investment, as well as a considerably lower cost of ownership than competing turbines due to its inherent reliability."
The X-Wind80 operates using a proprietary, in-house designed aerofoil that works in a very similar way to an aircraft wing -- as air passes over the wing of an aircraft it provides lift to raise it from the ground. "The X-Wind wings also provide lift, but as they are held by the spokes to a central shaft they can not move away; this forces the wings to move forward rotating around the central shaft," Crosher said.
This design, because of its vertical orientation, is less noisy than horizontal turbines and safer and less threatening for wildlife, which are sometimes killed in collisions with the turbine blades. "There is a growing body of anecdotal evidence that vertical turbines have greater visibility to birds and bats and therefore provide a greater level of safety to our flying friends," Crosher said.
Specifically, the X-Wind80 has a very small footprint for its power generation -- ø11m [ø36'] for 100kW peak power. "This means we can install 1MW peak power per kilometer or 1.6MW/mile," Crosher told us.
Because it only has one moving part, the X-Wind80 also is more reliable and needs less maintenance, which allows it to be placed on sites that are typically hard to access. Furthermore, the turbine has been designed to fit into a single container, making transportation to sites cost effective and the range of sites to which the turbine can travel extensive.
X-Wind is now working on its first test deployment of the X-Wind80 with Network Rail, the operator of the UK's railways and the biggest user of energy in the country.
"The plan is to install five turbines on a single site, which will enable us to do feasibility studies on electrical connections into the rail network and evaluate issues to do with safety, power quality to do with the electrical systems, and impact on signaling [and the like]," Crosher said.
Related posts: