You can never have too much data storage.
Most of us save everything from music to pictures to software programs on some form of data storage device. Cellphones, computers, tablets, and even TVs have some kind of data storage feature, which usually fill up pretty quickly. We find ourselves deleting old information to make room for new data, and even in massive data storage servers space is limited to a finite amount of information that can be stored on them. Sure, they may pack a load of four terabyte hard drives, but at some point that space will become full as well.
The question is, how can we save all of our data without resorting to deletion of previous information? The answer may sound unconventional but the solution lies with glass. A recently released paper from researchers at the Optoelectronics Research Centre (University of Southampton) has devised a way to save a lifetime of data on a single storage device. The research team, led by Jingyu Zhang, created a glass storage disk that holds an unprecedented capacity of 360 terabytes.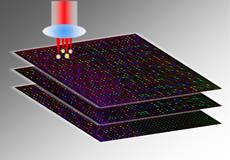 In their paper, the team details how they created the 5D Data Storage device using nanostructured glass. The glass disk is actually composed of a silicon-based layer that stores information when the crystals are fused together using a femtosecond laser.
The laser creates a 5D storage system, which includes the crystal's position in typical 3D coordinates (x, y, and z), as well as the actual size of the crystals and their respective orientations for factoring in the storage capacity. Those five variables affect the polarization of light, which can then be read using an optical microscope and polarizer. The researchers successfully tested the 5D hard drive by recording a 300kb file using the ultra-fast laser onto three layers of nanostructured dots that have a 5 micrometer gap between them (for the polarization effect). The team states that the 5D disk is so robust that it can handle temperature extremes of up to 1,000C and has an unlimited shelf life than that of current data storage media currently on the market.
While the 5D Data Storage technology is certainly astounding to say the least, do not expect to use it on your mobile devices and PCs anytime soon. The problem is that the devices that read and write the data to the crystals is nowhere near miniaturized enough to be incorporated into commercial products that we use on a daily basis. It's a safe bet though that sometime in the future (give or take a few decades) we will never have to delete outdated information to make room for new data.
Related posts: