Clothing is about to get smarter thanks to a new yarn developed by researchers in Australia that can conduct and store electricity, and can be used to create fabric with its own built-in power source.
Scientists at the Australian Research Council (ARC) Centre of Excellence for Electromaterials Science (ACES) at the University of Wollongong have developed a way to turn nanostructured fibers into batteries with ultrafast charge and discharge rates.
The fiber -- a flexible, wearable yarn about the width of a human hair -- acts "just like a capacitor or battery," Professor Gordon Wallace, director of ARC, told Design News in an email. He is also one of the researchers on the project, which has been underway for about 10 years.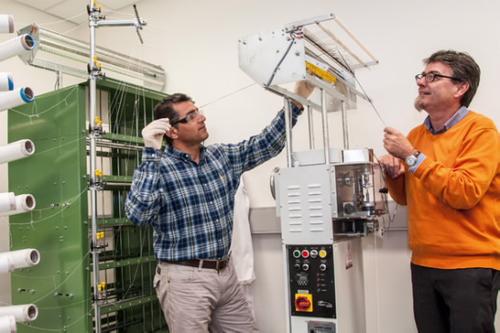 Researchers created the yarn by weaving two nanomaterials together to form a carbon nanotube. They use a thin metal wire -- which is key to the materials' power generation -- to weave together hundreds of layers of these nanotubes, which are coated with small molecules of plastic. Then, similar to how wool would be spun into thread, the layered nanotubes are spun into a yarn by integrated knitting/braiding machines.
"The volumetric capacitance is high... and the discharge current of the plied yarn supercapacitor linearly increases," researchers wrote in an abstract for an article about the research published in the journal Nature. "The exceptionally high energy and power densities for the complete supercapacitor, and high cycle life that little depends on winding or sewing (92 percent, 99 percent after 10,000 cycles, respectively), are important for the applications in electronic textiles.
The resulting yarn is flexible enough that it can be knitted or sewn into clothing that can be used to power sensors that could, for instance, monitor movements during training or physiotherapy. It also could power high-tech clothing with electricity for other types of built-in sensors or devices. "Wearable energy puts function into fashion," Wallace told us. "I often look at a garment created for looks and environmental comfort and think, 'What a waste of space.' We should be able to create comfortable, good looking stuff that is also functional. Storing energy in clothing would be a convenient way to charge the myriad of mobile devices we now carry."
Another application of the yarn could be to add strength to composite materials often used in automotive components and potentially for the development of electric vehicles, Wallace added.
Because fiber spinning is scalable and the fibers are amenable to conventional knitting and braiding processes, mass production of the yarn on a broad scale would not be difficult, Wallace told us. He said that if all goes well and the project finds the commercial partnership it's currently seeking, the yarn could be in widespread use in the next two to three years.
The Australian National Fabrication Facility funds ARC and provided support for the project and fabrication equipment.
Related posts: