YEI Technology highlighted its new Micro USB 3-Space Sensor at last month's Sensors Expo in Chicago. The sensor is an updated version of YEI's Micro USB modules outfitted with improvements designed to allow for implementation into various projects.
The board was developed using the microelectromechanical systems manufacturing process and features an attitude and reference heading system. Its inertial measurement unit takes advantage of the sensor's triaxial gyroscope, accelerometer, and onboard compass to determine orientation relative to a preset reference point. The data is processed in real-time using a series of advanced processing algorithms and quaternion-based (essentially a quotient of two vectors in a 3D environment) Kalman filtering, which allows for precise orientation even while moving.
The sensor is outfitted with a Micro USB 2.0 and serial communications port (using solderable SMT pads). This provides easy and full access to all the raw data collected in multiple formats.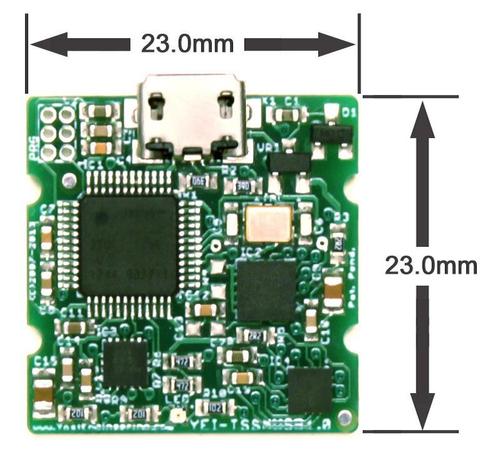 YEI says the new sensor can be used for myriad projects, including robotics, navigation/tracking, and healthcare monitoring, but it absolutely shines in real-time motion capturing for both virtual reality and gaming. Outfitting the user's limbs with 3-Space modules would give the user real-time control over characters and avatars. Imagine playing tennis with more control and movement over gesturing devices like the Nintendo Wiimote or PlayStation Move.
Better yet, if the modules were combined with some sort of vibrational feedback and Oculus VR's Rift headset, the system could bring us closer to having a real Holodeck in our living rooms. Daniel Morrison, an R&D programmer for YEI, told us that his company is talking with the Oculus VR about integration possibilities. The immersive potential would be incredible, to say the least, and it most certainly would take gaming to a completely new level.
Related posts:




4
Are they robots or androids? We're not exactly sure. Each talking, gesturing Geminoid looks exactly like a real individual, starting with their creator, professor Hiroshi Ishiguro of Osaka University in Japan.

8
NASA is developing Project Morpheus, a vehicle that can lift off and set itself down on planetary surfaces.

11
Google is developing robots for manufacturing, assembly, and warehouse tasks.

40
Microsoft will quit supporting – and patching – Windows XP in April. This may be a cruel development for plants.

8
Truchard will be presented the award at the 2014 Golden Mousetrap Awards ceremony during the co-located events Pacific Design & Manufacturing, MD&M West, WestPack, PLASTEC West, Electronics West, ATX West, and AeroCon.


LATEST ARCHIVED BROADCAST
For industrial control applications, or even a simple assembly line, that machine can go almost 24/7 without a break. But what happens when the task is a little more complex? That's where the "smart" machine would come in. The smart machine is one that has some simple (or complex in some cases) processing capability to be able to adapt to changing conditions. Such machines are suited for a host of applications, including automotive, aerospace, defense, medical, computers and electronics, telecommunications, consumer goods, and so on. This discussion will examine what's possible with smart machines, and what tradeoffs need to be made to implement such a solution.



Datasheets.com Parts Search
185 million searchable parts
(please enter a part number or hit search to begin)