Vodafone UK has teamed up with researchers at the University of Southampton to develop denim shorts and a sleeping bag that can harvest energy from body heat to charge portable devices.
The two items are made of thermoelectric energy-harvesting fabric that reacts with body heat and movement to generate electricity. The denim shorts harvest energy from the wearer's movement; a full day of activity eventually could charge a smartphone for more than four hours, according to Vodafone. The sleeping bag would take over where the shorts leave off by harvesting heat as the user sleeps. Eight hours of sleep could mean 11 hours of charge on a smartphone battery.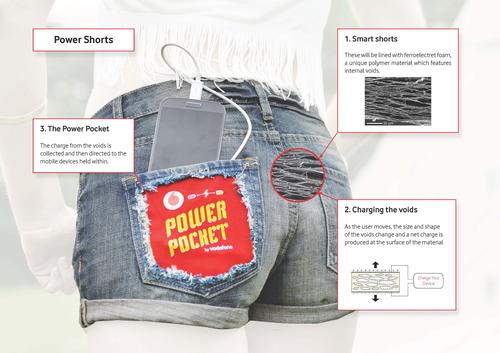 Steve Beeby, professor of electronic systems at the University of Southampton, is conducting a five-year research program on energy harvesting and e-textiles. Thermoelectric materials are not new, but he told us in an email that what's interesting about the Power Shorts and Recharge Sleeping Bag is how they use "low-temperature materials that can be deposited on textiles."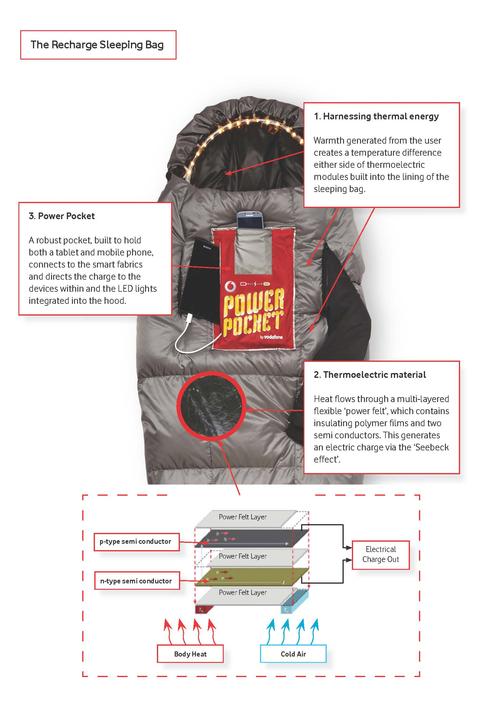 Thermal energy harvesting comes from the Seebeck effect, a process that produces a voltage from the temperature differences across a thermoelectric module. The shorts and the sleeping bag create this effect through voids or holes inside the fabric, Beeby said.
Imagine the holes inside a sponge. As the material is squashed, the holes get smaller and the electrical charge trapped across the voids becomes redistributed, delivering the electrical power. As the size and shape of the voids changes, a net charge is produced at the surface of the material.
The shorts are lined with ferroelectret foam, a polymer material that contains these voids. The sleeping bag contains thermoelectric modules and thin polymer foam material in its lining to gather energy as the user sleeps. Vodafone said in a press release that both products will contain a "Power Pocket" that will transfer the stored energy to a mobile device. However, Beeby said that the technology for transferring the electricity hasn't been developed yet. These products are "mock ups" of how the technology will be implemented while Vodafone works on prototypes that can be tested.
Rebecca Dickinson, a Vodafone spokeswoman, told us that, once prototypes are developed, they will be tested throughout the summer music festival season (until September). The company will then decide on a timeframe for commercial products.
Related posts: