Military technology is exploding with new devices for the soldier in the field. In addition to a helmet, weapon, and an assault pack, new devices are added continually.
Medical professionals advise that individuals carry no more than 10 percent to 15 percent of their body weight. Yet soldiers sometimes carry as much as 90 lb of equipment. That's fine if you weigh 800 lb. For everyone else, it's too much.
Three companies are now collaborating to shift the soldier's weight to smart robots. 5D Robotics is contributing its Behavior Engine software to a robotic platform built by Segway and DRS Technologies to create a smart robot -- the 440x -- that can carry a soldier's equipment out in the field.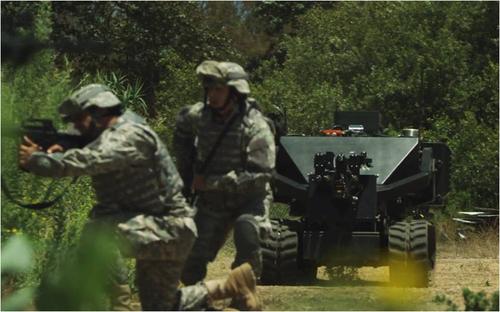 The goal of the collaboration is to lower the human workload, reduce training time, and make it easier for humans to interact with robots in a variety of environments. "The Behavior Engine interacts with the solder," Regan Rowe, director of business development at 5D Robotics, told Design News. "The robot can notice if there is an obstruction and move around on its own." She said the intuitive aspects of the robot puts less work on the soldier. "The Behavior Engine allows the solder to do less to make the robot move through a path," Rowe told us. "The robot becomes a team member. It carries gear and checks hazards."
The project is part of the US Army's effort to remain at the forefront of technological advancement to protect soldiers and prevent injuries. The Army is focused on the heavy weight of the soldier packs and looking for a way to lighten workloads. "Segway provides the robot platform, and DRS provides the system engineering," said Rowe. 5D's Behavior Engine provides safety behaviors such as obstacle avoidance that is customized to the field environment.
Rather than using GPS, 5D has turned to tags to allow the robot to move more accurately through its terrain. "Historically, robots have used GPS. But GPS has limitations in measurement," said Rowe. "The tags provide specific positions. Both the robot and the soldiers have tags. The robot works in contact to the squad."
Rowe said the 440x will be out in the field with soldiers very soon. "This is part of a program design for rapid deployment," said Rowe. "In six to eight months, six of these units are going to Afghanistan. Then there will be a progression of additional purchases at a greater volume."
While 5D is working first with the military on human/robot interactions, the company also expects to deploy its technology for non-military uses. "We're moving into warehouse distribution and hospitality," Rowe told us. In warehouses, the robots will move materials. In hospitality, the robots will carry luggage. "The robot's follow-me capability will combine with autonomy," she said.
Related posts: