A Segway-like robot has joined the list of devices developed to assist firefighters. Researchers at the University of California-San Diego designed the semi-autonomous Firefighting Robot (FFR) to map the interiors of residential and commercial buildings and take temperature readings to give firefighters a clearer picture of a fire before they enter a burning building.
The robot rides on two wheels. Its stem reaches a few feet high and carries two stereo cameras and other sensors, allowing it to record thermal data and map it on to a 3D scene constructed from images taken by the cameras.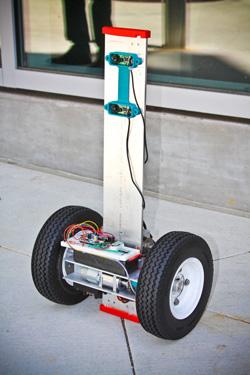 Thomas Bewley, a professor at UCSD and director of its Coordinated Robotics Lab, told us in an email that inexpensive COTS mobile phone cameras give the robot stereo vision. Tamarisk 320 infrared imagers from DRS Technologies record the thermal data. Researchers used a simple, three-motor design to give the robot mobility. Two motors power the main drive wheels for driving and steering in a "Segway-like manner." The third motor lifts the body to overcome obstacles "in what is perhaps best described as an inverse-Slinky-type maneuver."
Researchers plan to equip the robot to analyze gases and other compounds at a fire. "We are also collaborating with UCSD Professor Deli Wang in the development and use of a unique and ingenious electronic nose, built from carbon nanotubes, which can detect and quantify O2, CO2, CO, unburnt hydrocarbons, and volatile organic compounds in the atmosphere as the vehicle moves throughout the structure."
Bewley and his team are working with San Diego firefighters and ATA Engineering to ensure the FFR's thermal and mechanical robustness. Daniel Yang, another member of the research team, told us the collaboration with ATA has provided the team with analysis of the material needed to protect the robot in a burning environment. "Our thermal analysis showed that a two-centimeter-thick composite aralite thermal shield could protect the robot in a room with a three-by-three-meter fire and keep the internal temperature at 61C after three minutes."
Bewley said that, once funding for the project is secured, the FFR could come to market within five years.
Related posts: