Most flying robots, but not all, are small, so they can access hard-to-reach places. Some designed to emulate insects can be as tiny as real insects. Most flying robots use a helicopter-style design (three to 12 or more rotors) or emulate the movements of birds. Some bird-like designs glide. Others incorporate the much more difficult-to-achieve locomotion of flapping.
Flying robots can serve a wide variety of purposes. Many work in swarms, cooperating with one another to accomplish their tasks. Surveillance, reconnaissance, and search and rescue in military and first responder situations are popular applications for aerial robots.
Yet not all these robots are considered unmanned aerial vehicles. Some have been used to assemble architectural structures or perform agricultural duties such as crop dusting or pollination. Many are autonomous. Some are remote-controlled, and some are autonomous robots with real-time communication from remote pilots.
Click the image below for a slideshow of examples of these robots.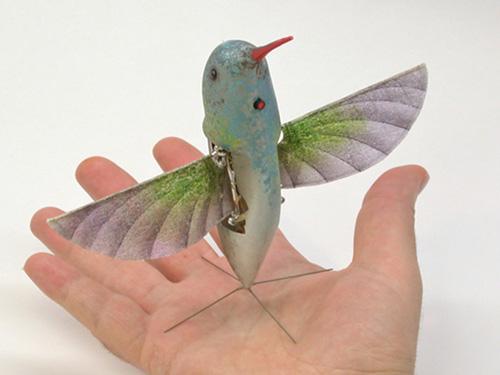 Related posts:




0
GE is working on a new 3D printing method, known as cold spray, in which metal powders are sprayed from a nozzle at extremely high velocities on metal objects.

1
NASA's Robonauts are being developed for inter-planetary travel, and to take over for astronauts when the work becomes too dirty or dangerous.

14
An industrial robot known for its safety around humans has been programmed to work a checkout lane and choose how it accomplishes certain tasks.

8
Trends in motion control all converge toward greater efficiency in movement, energy, control, and wiring.

25
Are they robots or androids? We're not exactly sure. Each talking, gesturing Geminoid looks exactly like a real individual, starting with their creator, professor Hiroshi Ishiguro of Osaka University in Japan.


LATEST ARCHIVED BROADCAST
For industrial control applications, or even a simple assembly line, that machine can go almost 24/7 without a break. But what happens when the task is a little more complex? That's where the "smart" machine would come in. The smart machine is one that has some simple (or complex in some cases) processing capability to be able to adapt to changing conditions. Such machines are suited for a host of applications, including automotive, aerospace, defense, medical, computers and electronics, telecommunications, consumer goods, and so on. This discussion will examine what's possible with smart machines, and what tradeoffs need to be made to implement such a solution.



Datasheets.com Parts Search
185 million searchable parts
(please enter a part number or hit search to begin)