Researchers have been exploring how to improve lithium-based batteries to extend their use for electric vehicles and other applications. Now, according to an article on MIT's website, scientists at MIT and Sandia National Labs have observed a reaction in lithium-air batteries that could help improve the design of these types of cells.
Lithium-air batteries use an air cathode to draw oxygen from the atmosphere. The oxygen reacts with the lithium to produce electricity. These batteries could store up to four times as much energy per pound as the best lithium-ion batteries on the market today. Their use in electric vehicles could break the mainstream barrier to entry for these vehicles.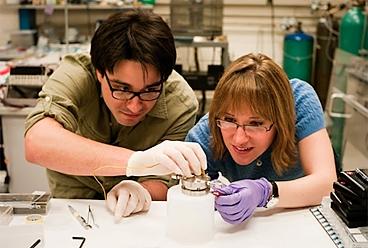 Some researchers say lithium-ion batteries may be reaching their limits (though recent research into nanotechnology has improved battery life and efficiency). Lithium-air batteries could be one of the ways forward, and researchers have been working to better understand the electrochemical reaction of this type of battery.
That's where the MIT-Sandia research comes into play. Scientists have used transmission electron microscope (TEM) imaging to observe the reaction they believe is at the heart of improving lithium-air batteries -- a reaction called oxygen evolution that happens as the batteries change. By using this TEM technique, researchers say they can find a way to make lithium-air batteries more effective in the near future by seeing what has been limiting their potential.
Specifically, the research has shown for the first time the oxidation of lithium peroxide -- the material formed during discharge in a lithium-air battery. Researchers noticed that, at high charging rates, this oxidation occurs mostly at the boundary between the lithium peroxide and the carbon substrate -- multiwall carbon nanotubes used in the battery electrode -- on which it grows during discharge.
This observation has allowed scientists to note what has been limiting the charging of these batteries: the resistance of lithium peroxide to the flow of electrons through the battery. "This provides insights into how to design the air electrode," Yang Shao-Horn, a professor of mechanical engineering and materials science and engineering at MIT, said in the MIT website post. "To our knowledge, this is the first direct evidence that electron transport is limiting the charging."
Shao-Horn co-authored a paper on the research. Other authors of the paper include Robert Mitchell, a recent MIT PhD in materials science and engineering; Betar Gallant, a mechanical engineering PhD student; and Carl Thompson, a professor of materials science and engineering.
The next step in the research will be working with researchers at Sandia, who co-authored the paper, to measure actual currents during charging, according to Shao-Horn. The National Science Foundation also supported the research, some of which was performed at Sandia's Center for Integrated Nanotechnologies, which is operated for the Department of Energy.
Related posts: