Moog's Naval Systems Business Unit has developed a peak sine drive controller that can handle 15 times as much power as its predecessor and is about 500 cubic inches smaller. The new design dramatically increases the amount of available power without increasing controller volume by refining topologies and using new fluid technology.
Jason Weiss, engineering manager for the business unit, told us Moog has previously designed 10kW peak sine drive controllers with low structure-borne vibration noise levels. Building on top of that experience, the unit set out to develop a 150kW peak controller and examined the challenges of increasing the power of the drive topology.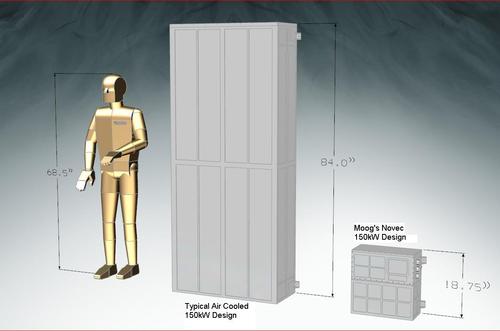 Weiss said four areas predominantly impact power density: losses, thermal conductivity, operating temperature, and package volume. To reduce the losses within the controller, a trade study on using silicone carbide (SiC) switching devices in a multilevel configuration was performed. SiC MOSFETs have proven to have lower conduction and switching losses and operate at higher temperatures than silicon MOSFETs and insulated gate bipolar transistors.
Increasing the output voltage to approximately double that of the baseline design helped decrease the output current and reduced filter losses. As a result, the design used a multilevel configuration versus a standard inverter, which would provide for a reduction in voltage stress on the desired switching devices. The overall controller was designed for a system efficiency of 95 percent.
Although we were able to increase our efficiency, we still had to manage 7.5kW of heat. Various cooling and heat management methods were investigated, including natural convection, forced air, liquid cooling, and heat pipes. We considered factors such as weight, heat transfer, conductivity, complexity, cost, and feasibility. The areas providing the most benefit for our application were the water cooling for managing external heat and dielectric fluid to handle the internal heat.
To obtain a better understanding of the dielectric fluid immersion along with the SiC devices, Moog developed a test unit that could house high-power resistors, inductors, the SiC devices, and the drive circuitry. Weiss said that the engineered dielectric fluid has slightly higher conductivity than air, but the main heat transfer method of the fluid is phase changing, or boiling from a liquid into a vapor.
When a liquid boils, it takes energy (called heat of vaporization) to change from a liquid to a gas. During this phase change, the temperature of the liquid remains constant. The second part of the two-phase cycle is condensing. All the heat absorbed by the vapor rises with the vapor and must be transferred to the condenser for the phase change from vapor to liquid again. The liquid cold plate removes the heat from the enclosure to an external heat exchanger. A test unit was developed to understand the effects of the dielectric fluid Novec.




0
GE is working on a new 3D printing method, known as cold spray, in which metal powders are sprayed from a nozzle at extremely high velocities on metal objects.

0
NASA's Robonauts are being developed for inter-planetary travel, and to take over for astronauts when the work becomes too dirty or dangerous.

13
An industrial robot known for its safety around humans has been programmed to work a checkout lane and choose how it accomplishes certain tasks.

7
Trends in motion control all converge toward greater efficiency in movement, energy, control, and wiring.

21
Are they robots or androids? We're not exactly sure. Each talking, gesturing Geminoid looks exactly like a real individual, starting with their creator, professor Hiroshi Ishiguro of Osaka University in Japan.


LATEST ARCHIVED BROADCAST
For industrial control applications, or even a simple assembly line, that machine can go almost 24/7 without a break. But what happens when the task is a little more complex? That's where the "smart" machine would come in. The smart machine is one that has some simple (or complex in some cases) processing capability to be able to adapt to changing conditions. Such machines are suited for a host of applications, including automotive, aerospace, defense, medical, computers and electronics, telecommunications, consumer goods, and so on. This discussion will examine what's possible with smart machines, and what tradeoffs need to be made to implement such a solution.



Datasheets.com Parts Search
185 million searchable parts
(please enter a part number or hit search to begin)