Coreless DC motors
From a DC motor standpoint, coreless motors are extremely easy to use because the application involves applying a voltage for the motor to produce the speed and torque. They're ideal for portable devices because speed and torque are controlled by the voltage, requiring no electronics. "The top design goals with portable devices are size and weight, and obviously the portable device needs to be easy for the consumer or patient to use," said Beckstoffer. "The advantage that coreless DC motors offer compared to a DC iron core motor based on their construction is the fact that they are lighter weight and more efficient."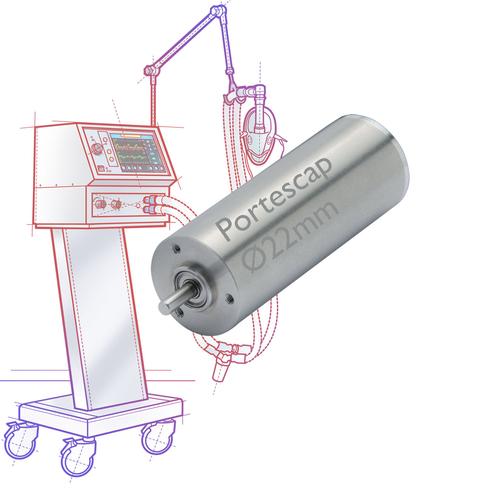 A typical DC iron core motor has a wound rotor, which is basically just a mass of iron. The coreless design means there is no iron core to the center. Using magnets, the tube, and a custom winding eliminates the large iron core, saving weight from the system standpoint. Because of the type of construction, the motors can be much smaller in diameter, down to eight millimeters.
For a portable lab analyzer, for example, being able to reduce the size provides more portability. For an infusion pump that a patient will wear on their hip, the goal is for the unit to be as small as possible. Using an 8-mm-diameter motor and associated 8-mm gearbox provides a very compact, yet powerful package.
New designs are also achieving increased flexibility because neodymium magnets that increase power density are becoming more widely used. And even in the smaller sizes, the design is not sacrificing the output of the motor itself. "When you look at the difference between a coreless and an iron core motor, you don't have the iron losses as the motor is rotating," said Beckstoffer. "With an iron core motor, there are significant losses which translate into a lack of efficiency. The power put in is not achieving equivalent power out of the motor. With coreless technology, these losses are practically eliminated, which increases the efficiency of the motor's operation."
In terms of a portable medical device running on a battery, battery life is critical. The efficiency increase by coreless motors extends the battery life of the device, allowing the customer longer time between charges or extended use of the device. This creates a better customer experience for the patient. As Beckstoffer explains:
What we have done in terms of motor design over the last few years has been focused on adding the ability to use neodymium magnets to increase the power density. If the motor is able to produce more power, it requires less power in for the same equivalent power out. An additional benefit from a design standpoint with coreless DC motors is increased flexibility in terms of motor diameters and motor lengths. The result is increased performance and tighter motor packages.