With all of the recent creative innovation in the maker world due to the growing popularity and availability of small, cheap computer boards, Texas Instruments has also gotten into the fun with its Stellaris Launchpad platform. The Launchpad equips developers with an ARM-based evaluation board that provides onboard emulation and debugging for project builds without the need for external hardware. In fact, a group from TI chose to show off their own creative skills at this year's SXSW Festival by assembling and displaying a future Texas Instruments prototype mouse based on the Stellaris board.
The Stellaris LM4F120H5QR board provides users with a 32-bit ARM Cortex-M4 processor operating at 80 MHz, 256 kb of Flash memory, two 20-pin dual-gender stackable headers for Boosterpack compatibility, and several peripheral options including: USB, SPI, 12C, MSPS ADC, and UART ports.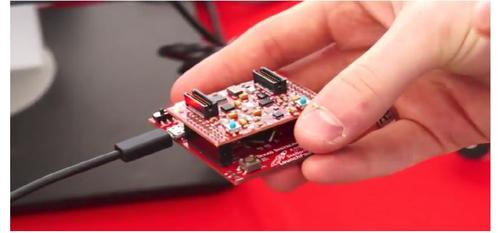 For this project, the TI group made use of a Stellaris sensor prototype pack's onboard accelerometer to communicate motion to a Windows XP PC via USB. The accelerometer senses motion left, right, up, and down, passing it down the Stellaris board headers to the ARM processor, which then communicates the information to the computer. TI's spokesperson Austin Blackstone then demonstrated its use by controlling an on-screen pointer's movement on Microsoft point, though he points out that the group was unable to work out the click-and-drag feature in their 30 minutes of preparation.
No information was given about what the technology is a prototype of, but Texas Instruments assures us of a big surprise that will be announced later in the year. In addition, just as the TI group showed the creative potential of a few simple modifications to their project-based board, so too will several other makers lucky enough to attend this year's SXSW festival. Were you able to check out the maker tent in between the overwhelming presence of emphatic musical performances and film screenings?
Related posts:




11
An industrial robot known for its safety around humans has been programmed to work a checkout lane and choose how it accomplishes certain tasks.

2
Trends in motion control all converge toward greater efficiency in movement, energy, control, and wiring.

19
Are they robots or androids? We're not exactly sure. Each talking, gesturing Geminoid looks exactly like a real individual, starting with their creator, professor Hiroshi Ishiguro of Osaka University in Japan.

10
NASA is developing Project Morpheus, a vehicle that can lift off and set itself down on planetary surfaces.

15
Google is developing robots for manufacturing, assembly, and warehouse tasks.


LATEST ARCHIVED BROADCAST
For industrial control applications, or even a simple assembly line, that machine can go almost 24/7 without a break. But what happens when the task is a little more complex? That's where the "smart" machine would come in. The smart machine is one that has some simple (or complex in some cases) processing capability to be able to adapt to changing conditions. Such machines are suited for a host of applications, including automotive, aerospace, defense, medical, computers and electronics, telecommunications, consumer goods, and so on. This discussion will examine what's possible with smart machines, and what tradeoffs need to be made to implement such a solution.



Datasheets.com Parts Search
185 million searchable parts
(please enter a part number or hit search to begin)