Engineers at Virginia Tech have built a jellyfish robot prototype the size of an adult man they say will one day patrol the seas to monitor environmental conditions and ocean currents, study aquatic life, make maps of the ocean's floors, and perform military surveillance.
The robot, named Cyro, is the big brother of an earlier robot jellyfish prototype, RoboJelly, designed by the same team of engineers. RoboJelly is much smaller, about the size of an adult man's hand; can propel itself through water; and can also refuel itself. That robot was designed primarily for military surveillance, and contains sensors, communications, and propulsion devices. Both robots are funded by the Office of Naval Research and the US Naval Undersea Warfare Center as part of a larger project to develop autonomous naval robots.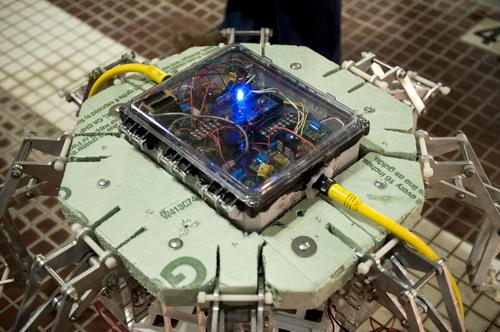 Cyro weighs 170 pounds and is 5 ft 7 inches long. It's much larger than the first-generation jellyfish because a bigger robot vehicle can carry a bigger payload, and can last longer in the water since it's more energy efficient. Energy efficiency is also one of the main reasons jellyfish were chosen as a biological model for the robot, since their lower metabolic rate lets them consume less energy than other aquatic animals. Another major reason is the fact that they can withstand a wide range of temperatures.
Although RoboJelly is tethered, Cyro is autonomous, and operates on a rechargeable nickel metal hydride battery. The team is also experimenting with hydrogen power sources. The robots must be able to last for months at a time unattended. Its multiple sensors make it possible to gather and store data while at the same time analyzing and transmitting previously stored data.
You can watch a video showing Cyro's moves below. In the video, Alex Villanueva, a doctoral candidate in mechanical engineering and member of the research team, explains that a major part of the R&D task right now is to understand and replicate the jellyfish's propulsion mechanisms. Cyro's eight mechanical arms are controlled by linear actuators, in the form of DC motors, in turn controlled by electronics. The electronics are contained in a bowl-shaped device inside the mechanical arm apparatus, and those are covered by a jelly-like shell made of silicone.
The Virginia Tech research team is headed by Shashank Priya, professor of mechanical engineering. Other universities involved in the larger Navy-funded project include Providence College, Stanford University, the University of California Los Angeles, and the University of Texas at Dallas.
I found the jellyfish's movements in the Cyro video to be scarily realistic. This robot also reminded me of the AquaJelly, designed by Festo. As seen in this video, AquaJelly's movements, as is typical of Festo's designs, are elegant. Yet they also seemed less realistic than Cyro's. AquaJelly, also autonomous, was designed to be group of swarming robots. Each one operates on an electric motor and two lithium-ion polymer batteries. These are housed in a central unit, a water-tight laser-sintered body that also contains the recharging control unit and the servo motors for the swash plate. On top of this unit is mounted a translucent hemispherical dome containing a control board and sensors. The robot's eight tentacles are attached to the dome.
Related posts: