Early robotic hands were developed in part to mimic human grasping, but mostly to function in industrial environments where speed and force of operation were primary objectives.
More recently, some robot hand R&D has focused on closely emulating the human ability to pick up; manipulate; and move small, delicate objects in unstructured environments outside the factory safety cage. Many of these robots are being developed for use with humans, either in industrial environments, or as service robots for the elderly or disabled.
This requires robots that are smaller, safer, and human-aware at some level. Engineers developing the newer generation of robotic hands have re-thought the approach to hand design. Many have started with a higher-level view that attempts to emulate multiple integrated human biological systems, not only motor movements. The newer generation of robotic hands closely models the human hand's kinematics with a similar form factor, tactile and sometimes optical sensors, and high degrees of freedom (DOF) counts. Many have industry-standard interfaces and can be used as a tele-operation tool or mounted on a range of robot arms as part of a robot system. Some are commercially available, some were developed as proof-of-concept, and some are still in R&D.
Click on the image below to see 11 of these robots.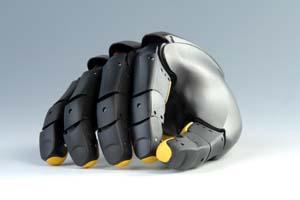 Related posts:




0
GE is working on a new 3D printing method, known as cold spray, in which metal powders are sprayed from a nozzle at extremely high velocities on metal objects.

1
NASA's Robonauts are being developed for inter-planetary travel, and to take over for astronauts when the work becomes too dirty or dangerous.

13
An industrial robot known for its safety around humans has been programmed to work a checkout lane and choose how it accomplishes certain tasks.

7
Trends in motion control all converge toward greater efficiency in movement, energy, control, and wiring.

22
Are they robots or androids? We're not exactly sure. Each talking, gesturing Geminoid looks exactly like a real individual, starting with their creator, professor Hiroshi Ishiguro of Osaka University in Japan.


LATEST ARCHIVED BROADCAST
For industrial control applications, or even a simple assembly line, that machine can go almost 24/7 without a break. But what happens when the task is a little more complex? That's where the "smart" machine would come in. The smart machine is one that has some simple (or complex in some cases) processing capability to be able to adapt to changing conditions. Such machines are suited for a host of applications, including automotive, aerospace, defense, medical, computers and electronics, telecommunications, consumer goods, and so on. This discussion will examine what's possible with smart machines, and what tradeoffs need to be made to implement such a solution.



Datasheets.com Parts Search
185 million searchable parts
(please enter a part number or hit search to begin)