There are unsung heroes out there who have saved countless lives. Like a true superhero, their only response to those saved is a simple "I'm only doing my job."
They are the men and women of the Joint Robotics Repair Detachment (JRRD), and they keep the US military's robot armada up and running. These bots are almost exclusively tasked with handling IEDs, improvised explosive devices, and other traps and explosives.
The JRRD handles robots ranging from the single digit pound range to several tons. Repairs are not always for the IED-damaged robots. Normal wear-and-tear finds that the bots need replacement treads or wheels, cameras, motors, and faulty electronics. More extreme cases have the repair technicians replacing major portions of the bots, such as arms and other mutilated components.
Soon robots will be part of every war fighter's gear. Maintaining that tool will become as important as the weapons they carry.
Click on the image below to see some of these soldiers at work and the robots they repair.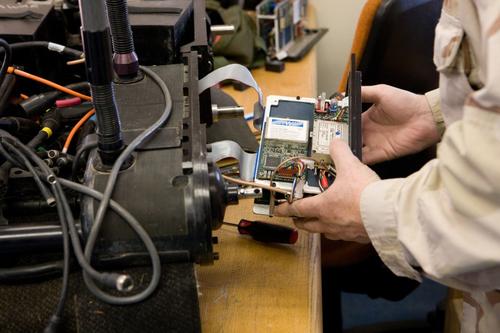 In the video below, watch JRRD technician Frank Minnie, Sgt. 1st Class, at work.
Related posts: