There are unsung heroes out there who have saved countless lives. Like a true superhero, their only response to those saved is a simple "I'm only doing my job."
They are the men and women of the Joint Robotics Repair Detachment (JRRD), and they keep the US military's robot armada up and running. These bots are almost exclusively tasked with handling IEDs, improvised explosive devices, and other traps and explosives.
The JRRD handles robots ranging from the single digit pound range to several tons. Repairs are not always for the IED-damaged robots. Normal wear-and-tear finds that the bots need replacement treads or wheels, cameras, motors, and faulty electronics. More extreme cases have the repair technicians replacing major portions of the bots, such as arms and other mutilated components.
Soon robots will be part of every war fighter's gear. Maintaining that tool will become as important as the weapons they carry.
Click on the image below to see some of these soldiers at work and the robots they repair.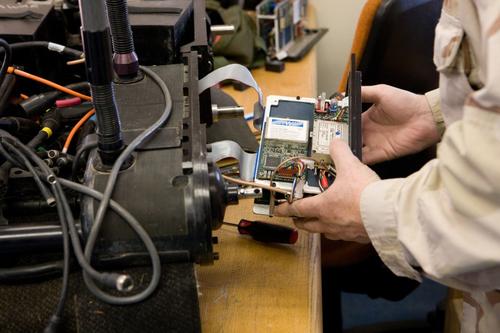 In the video below, watch JRRD technician Frank Minnie, Sgt. 1st Class, at work.
Related posts:




4
Are they robots or androids? We're not exactly sure. Each talking, gesturing Geminoid looks exactly like a real individual, starting with their creator, professor Hiroshi Ishiguro of Osaka University in Japan.

6
NASA is developing Project Morpheus, a vehicle that can lift off and set itself down on planetary surfaces.

10
Google is developing robots for manufacturing, assembly, and warehouse tasks.

38
Microsoft will quit supporting – and patching – Windows XP in April. This may be a cruel development for plants.

8
Truchard will be presented the award at the 2014 Golden Mousetrap Awards ceremony during the co-located events Pacific Design & Manufacturing, MD&M West, WestPack, PLASTEC West, Electronics West, ATX West, and AeroCon.


LATEST ARCHIVED BROADCAST
For industrial control applications, or even a simple assembly line, that machine can go almost 24/7 without a break. But what happens when the task is a little more complex? That's where the "smart" machine would come in. The smart machine is one that has some simple (or complex in some cases) processing capability to be able to adapt to changing conditions. Such machines are suited for a host of applications, including automotive, aerospace, defense, medical, computers and electronics, telecommunications, consumer goods, and so on. This discussion will examine what's possible with smart machines, and what tradeoffs need to be made to implement such a solution.



Datasheets.com Parts Search
185 million searchable parts
(please enter a part number or hit search to begin)