The electromagnetic spectrum, a range of frequencies that permeate the fabric of space, is just as valuable a resource as any on Earth. Wireless technology use continues to expand at an alarming rate. Billions of smartphones, computers, radio devices, satellites, etc. around the world tap into this invisible resource to connect disparate sections of the globe through the transmission of data.
Like any other resource, there are untapped regions that are not being utilized to their full extent. Google.org, the Internet mogul's charitable arm, is publicizing a Spectrum Database that monitors unused spectrum frequencies (a.k.a. white space) across the US. The database is undergoing a 45-day public trial with the FCC to test its validity. If all goes well, Google's spectrum database will be certified, ultimately allowing industry stakeholders and the public to utilize unoccupied frequency ranges through dynamic spectrum sharing.
Spectrum refers to the frequency ranges on which wireless devices are allowed to communicate. The entire frequency range is divided into specific bands to avoid interference between devices. An FM radio and a WiFi router would both operate within the radio frequency band. However, a radio may be tuned in to a 108MHz station, while the router operates on the standard 2.4GHz band.
As wireless connectivity continues to expand around the globe, the available spectrum becomes increasingly limited. Luckily, Google says there is plenty of open white space (about 6MHz of it).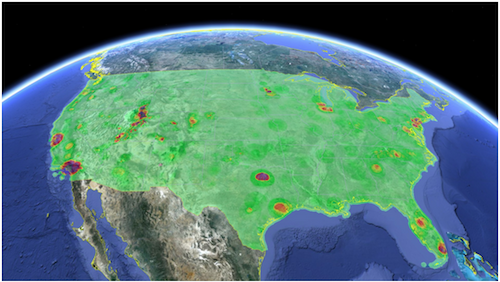 The database was created to promote dynamic spectrum sharing. The idea is to let interested parties search quickly for open spectrum bands in their area and take advantage of them while they're not in use by the primary owner. Multiple users, including commercial entities, the general public, and government institutions, could search for stronger, faster connections to online services, depending on the area's spectrum availability.
As of now, unlicensed TV spectrums make up most of the open frequency ranges. The FCC eventually hopes to regulate WiFi broadcast over these ranges to extend wireless Internet access to rural areas. A group that includes Hitachi Kokusai Electric and ISB Corp. has already begun building a prototype to make use of the 470-710MHz white space using the 802.22 standard. This project aims to provide wireless Internet access to areas where signal quality is poor while serving as a backup system for malfunctioning wireless access.
Anyone can access the Spectrum Database, so feel free to search for unused spectrum in your area. Google has already announced that, once the database is certified, registered devices will check for and use up available local bands automatically. Google once again is demonstrating its effort to increase global connectivity, this time by ensuring wireless Internet access is being put to good use.
Before the spectrum is under control, is there any white space pirate television lurking out there? Let me know.
Related posts: