SOCCKET harvests and generates a modest 6W of energy. "In Mexico, for example, people have been replacing candlelight with SOCCKET, and that is offsetting the household income they were dedicating to buying candles," Smith said.
The Mexican pilot program was put in place in collaboration with the Mexican television network Televisa. It's one of several business partners Uncharted Play has worked with -- Western Union and State Farm among them -- who pay for the fabrication of the SOCCKETs.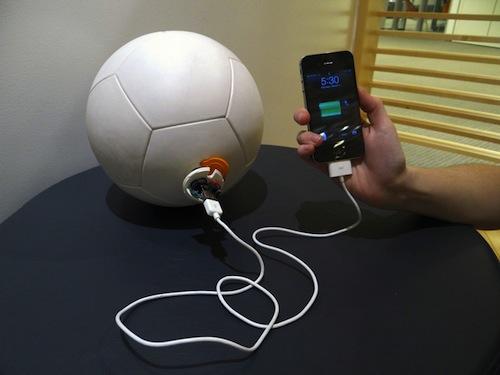 The company is in the midst of a Kickstarter campaign to raise $75,000 to bring SOCCKETS to the retail market. Uncharted Play plans to use the funds to inject automation into the fabrication process to meet retail needs. "Right now all of the SOCCKETs are hand assembled," Smith told us. "We want to buy a robotic arm to increase the pace."
SOCCKET is not meant to solve the energy poverty problem, but merely to call attention to it and provide an interim solution people deprived of electricity can use now, according to Smith. In the future the company hopes the soccer ball, which has universal appeal, can be used as a development model for other ways to harvest energy and provide affordable energy solutions to those that need it.
"One of the really cool things we found is that because soccer is a universal sport and so popular, people who wouldn't read an article about energy poverty or disparity are interested in reading about a soccer ball that produces energy," said Smith. "It brings in people who aren't necessarily interested in these development issues and starts to get their brains thinking."
Related posts: