NASA recently announced that the Mars rover Curiosity had collected the first sample from the interior of a rock on another planet. This in itself is a feat of engineering.
Being an unmanned, interplanetary mission, there are no opportunities to have an astronaut go out and repair the rover when there is a problem. The rover is also not controllable from a console here on earth, like a drone, since there is an appreciable communication delay. To control these long-range robots, a program must be uploaded and then activated. The amount of testing and the number of contingencies that must be accounted for is very large.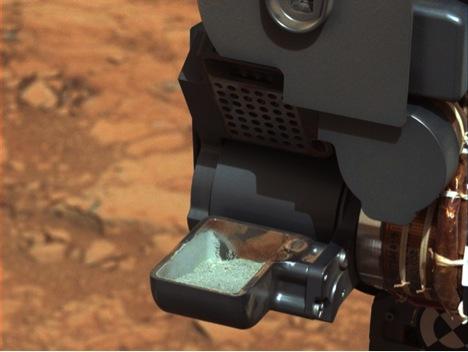 Now that the sample has been collected, it will be moved to a device that will sieve it and send particles to two instruments, Chemistry and Mineralogy (CheMin), and Sample Analysis at Mars (SAM). The sieve will allow particles up to 150 microns across. The analysis will take some time to complete, but we will be waiting with bated breath as these rocks were judged to have a potentially interesting history, being of a sedimentary type. This might indicate the presence of water, and is a core area of investigation for the mission.
The results of the analysis should be very interesting and we will keep you up to date. The results will also guide the Curiosity science team in choosing the next target rock.
Related posts: