The Lego craze may have quieted over the past 81 years, but the toys continue to shine their brilliance on young and old alike. The more than 400 billion blocks out in the world have shown us how playing with our imagination can make learning fun.
Like Lego, littleBits Electronics is on a mission. It wants to give the world appendable toys that help make electronics and circuitry builds an easy, fun, and educational experience for all creative people.
Ayah Bdeir, the founder of littleBits, was always interested in science and engineering growing up in Lebanon. Naturally, she gravitated toward an education in engineering. After getting her master's degree from the MIT Media Lab, she began to see that much of the world did not get enough exposure to the technological world behind the electronics that surround our everyday lives. She built her company with an eye toward lessening the intimidating nature of electronics.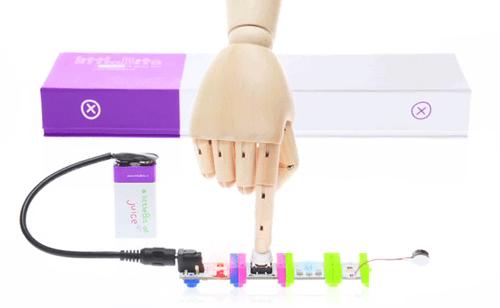 LittleBits bills itself as "an open-source library of electronic modules that snap together with magnets for prototyping, learning, and fun." The latest littleBits platform v0.3 offers a wide array of electronic blocks. The magnetic connections ensure that current always flows in the right direction (and that components don't fry).
The blocks are grouped into four different categories: power, input, output, and wiring. The color-coded, neatly packaged, and well-labeled components include wall power adapters, buttons, dimmers, light sensors, bend sensors, pressure sensors, motion triggers, LEDs, fans, servo motors, wires, logic gates... the list goes on. For such a cutesy looking design, the toys pack quite a creative potential for innovators of all ages.
Bdeir told us she hopes that, like Lego, littleBits changes the way we think about educating our children. Schools have been known to limit imaginative learning with strict curricula and an emphasis on high-stakes testing. Learning through playing allows one to experiment and become engaged in a boundless world of possibility. Perhaps more entrepreneurial efforts of this sort will enlighten schools to get back to being fun.
LittleBits kits are available in four sizes: a three-piece Teaser Kit ($29), a seven-piece Holiday Kit ($49), a 10-piece Starter Kit ($89), and a 14-piece Extended Kit ($149). Individual components are also available for purchase on the company's website.
Related posts: