Researchers at Michigan State University's Smart Microsystems Lab have been developing robotic fish for several years, and the most recent incarnation can glide long distances, as well as swim by flapping its tail. The addition of gliding motions cuts down on battery usage.
The research team, led by lab director and associate professor of electrical and computer engineering Xiaobo Tan, equipped the robotic fish with a variety of sensors that measure water temperature and quality, and can detect spilled crude oil. The sensors, which include GPS and some kind of wireless network communication, also make it possible for the fish to travel autonomously.
The robotic fish, named Grace (Gliding Robot ACE), was developed for the lab's RAPID project, funded by the National Science Foundation. RAPID resulted from the Gulf oil spill. Its goal is to use a school of robotic fish equipped with crude oil sensors to detect and track oil plumes in the Gulf. At the same time, the fish's design will be tweaked to function reliably in rough Gulf waters, avoid obstacles, and maintain network connections.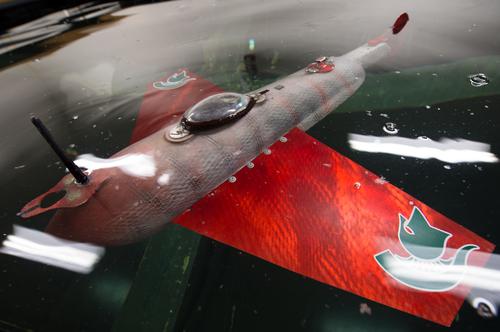 Developing the gliding function was crucial for the effective operation of a school of networked fish looking for spilled oil in the Gulf. Gliding can be used to travel long distances, using very little energy. Swimming, which requires the fish to constantly flap its tail, depletes battery power after a few hours. On the other hand, gliding slows down the fish robots and makes it harder for them to maneuver.
"This is why we integrated both locomotion modes -- gliding and swimming -- in our robot," said Tan in a university news article. "Such integration also allows the robot to adapt to different environments, from shallow streams to deep lakes, from calm ponds to rivers, with rapid currents."
Grace's glide function was enabled by a new pump that lets the robot ascend or descend in the water. The team also devised a rail for mounting the battery pack, which lets it move in sync with the pumping action. This helps the robot, which looks a lot like a plane with a fish tail, glide on a desired path. Although several videos are available on YouTube, such as this one, none of them do a good job of showing the robot's swimming motions.
The lab's research projects include several related to robotic fish. Bio-inspired flow sensing and control for autonomous underwater vehicles aims at developing electroactive polymer-based micro-flow sensors, characterizing their performance in a flow channel, and integrating them into a robotic platform for controlling underwater vehicles. Exploiting mobility-assisted collaboration for adaptive aquatic sensor networks targets detecting and tracking harmful algal blooms using networks of robotic fish. This project will examine how adaptation and collaboration among nodes can be used to cope with uncertainties in sensing, communication, and mobility, with the goal of efficient coverage and tracking. A third project aims at developing autonomous schools of robotic fish.
As we've reported on before, several mostly autonomous nautical robots have been developed for scientific exploration and data-gathering, including environmental health monitoring of various kinds, such as monitoring marine ecosystems and gathering data about water quality. Most of these, except for Liquid Robotics' Wave Glider, are much larger than Grace.
Related posts: