Not far away in the same city, a team of students at Northeastern University has combined medical and web-based technologies to create an intelligent T-shirt that can dynamically track a person's workout.
The shirt -- called "squid" because of the EMG (electromyography) tentacles that are sewn into it -- integrates with a smartphone application and a web database to monitor the levels of activation of a person's muscles while engaged in resistance training. To monitor activity, the tentacles stretch from the shirt and attach to a person's chest to measure muscle usage. The shirt also has a heart rate monitor to provide a more holistic view of activity level.
Wellness without the cost
Keeping people fit and healthy is the idea behind one of the early adopters of Vancive's wearable sensor, but from an overall weight-management perspective rather than merely by monitoring their physical activity.
For 13 years, Body Media, based in Pittsburgh, has been helping people manage their lifestyles with sensors designed to be worn on the upper arm. The company partners with 24 Hour Fitness, Jenny Craig, and other weight-management affiliates to help people keep track of what they're eating, their physical activity, and sleep levels to see how it affects their weight and health.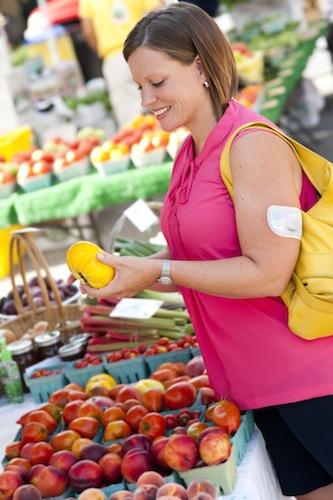 "We use multisensors to make more accurate statements about the body," Ivo Stivoric, co-founder and CTO of Body Media, told Design News. "If you're doing lifestyle management or you're logging your food, you want to know what it's going to be like [after you eat it] and why it's going to be the way it is."
Typically, people using Body Media's technology are in long-term health and weight-management programs that require contractual commitments and cost a considerable amount of money, such as $100 or more, Stivoric said. The sensors are also attached with fabric straps around the upper arm rather than through an adhesive, making the system itself built to last rather than disposable.
In 2011, the company sought a way to bring its technology to the masses so people could experiment with their wearable sensors on a trial basis, using a temporary adhesive system into which it could integrate its sensor platform. Body Media's technology features an accelerometer, a motion sensor, and a thermometer, as well as sensors to measure dynamic skin response, the amount a person is perspiring, and other physical activity, Stivoric told us.
That's where Vancive came into the picture. "We went on a search for a partner with adhesives that can last for seven days," he said, allowing people to track their lifestyle for a week to see if a longer-term program is something they're interested in. "For 30 to 35 bucks, you grab a patch, slap it on your arm for a week, and at the end of the week you see a report of your lifestyle."
To download the information, the patch has a USB connector that can be attached to a computer or other USB-compatible device for viewing, though eventually, Body Media plans to add wireless connectivity to its patch, which is expected be on the market early this year.
Related posts: