Design News, in partnership with Mouser Electronics, set out to find the most innovative and influential design engineers, and the response was overwhelming. Readers sent us stories of engineers who are creating new trends, significantly performing in the industry, and creating new products that are improving and changing lives.
It was no easy task for our editorial team and advisory board to choose the top innovator, but after sorting through all of the nominations there was one person who stood out: Punya Prakash.
Prakash is an applications engineer leading the Singlecore Processor team's extensive smart home initiative with Texas Instruments (TI) where she is innovating home and building automation. Her hard work and proven track record as a leader made her a standout as a top rising engineering star.
"Punya Prakash is not only a leader and a hard worker, but the fact that people turn to her for technical advice is a biggie: peer respect. She's active in community programs and looks like the fastest moving comet in this bunch," said Design News senior technical editor, Ann Thryft.
Within the three years that Prakash has been with TI she has scored many achievements and gained the respect of her colleagues. She stands out in a large corporation where the talent pool is swimming with top-notch engineers.
Chris J. Loberg, senior field technical marketing manager with Tektronix and a member of Design News's advisory board, noted:
Punya Prakash has an impressive track record at a large corporation that already is loaded with engineering talent. Punya is achieving in that competitive environment around all of that talent. She has had to be on her game with even more pressure than perhaps someone in a smaller corporate environment. Impressive.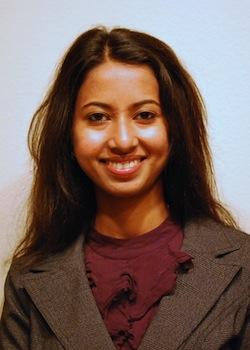 The people who made our list really stood out of the pack and are making big moves in the engineering world. Their accomplishments and commitment to their work show that they are striving to advance the engineering world and consistently trying to improve our daily lives. As Larry Johannes, Mouser Electronics' vice president of strategic marketing, put it.
A sincere congratulations to the nominees. As a company on the forefront of technology, Mouser is excited to be part of the Rising Stars program to recognize today's brightest young engineers. Every day, engineers are developing new, life-changing devices. As a distributor of the newest semiconductors and electronic components, Mouser is helping turn their ideas into the working prototypes to become the advanced products of tomorrow. We applaud their innovation.
Here's what Laura Billatos, a colleague who nominated Prakash for the award, said about her:
Prakash has broken the glass ceiling in the often male-dominated technology industry. She has only been with Texas Instruments Inc. (TI) for a little more than three years, but she has already made a mark. While at TI, she has managed applications as an engineer for OMAP and Singlecore Processor teams. She was a key contributor to the development of software development kits (SDKs) and was recognized as a Growth Superstar in 2010 for her efforts in this area.

Prakash is often the first resource people go to with hardware and software questions. With a proven track record of excellence in development, she was promoted to lead the Singlecore Processor team's extensive smart home initiative -- one of the most important trends facing the market today. In this role, she works to find the best solutions for home automation and has done an exceptional job.

Although she is a young engineer, she quickly stepped up to the plate, providing the team with her expertise on solutions for camera, audio, display, and other multimedia applications based on Sitara products. She always shows deep interest in the areas in which she is working and is constantly recommended to any team that requires quality insight and products.

Prakash is actively involved in various leadership programs within TI such as the ASP's New Employees Initiative, the Women's Initiative, and the STEM retention programs in high schools in the Dallas-Fort Worth metropolis. Prakash shows leadership in development and technology and her "can-do" attitude, coupled with her extensive knowledge, has made her a role model for women.
Check back tomorrow and Friday to see the finalists in our Rising Engineering Stars contest.