Back when members of my generation were kids, we had the solid notion that we would one day have robotic companions helping us with everyday tasks. Above all, they were to be our friends: We could trust them and tell them anything, for which they would always have a perfect response.
For some this may sound crazy, but you have to remember baby boomers thought they were going to be flying around town in hover cars and commuting to work using jet packs. Every generation has a vision of the future, and for those of us in our 30s we envisioned robots. Transformers were just introduced to the masses: Shows such as Small Wonder were playing on TV and Nintendo released R.O.B. (Robotic Operating Buddy) for the NES. We were inundated by them. We thought that by 2012 we would at least have the equivalent of "Andrew" (from Bicentennial Man) in our homes. Are we moving forward to finally realizing the dream of robotic companions in our lives, or has our fancy gotten the better of us?
In the decades since the early 80s, scientists and researchers have made great strides in the creation of robots, which have become increasingly humanoid in appearance. We've gone from the R2D2-style bots, such as Tomy's Verbot and the Ideal Maxx Steele, to the more sophisticated Honda Asimo.
Click on the image below to see four examples of next-generation robots.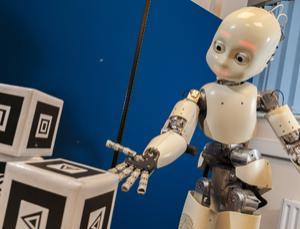 In the past decade, we have seen the greatest robot developments in a tech explosion that almost rivals the mobile device craze of the last few years. One of the biggest drawbacks people seem to have regarding robots is the fact that there is a lack of emotional reactions, meaning you can't have elaborate communication that conveys feelings like those normally found between humans. While this is true, there have been advances in this area, as well, such as the University of Hertfordshire's research dealing with infant speech using an iCub robot. The idea behind the research is to teach robots to speak in a more natural, human-like way. The key word there is "teach" rather than "program."
Socibot, based on the RoboThespian platform, looks to represent the next step, aiding the disabled. We already have the rudimentary technology to build humanoid robots like those seen in sci-fi movies, but the AI (artificial intelligence) needed to truly interact with their human counterparts is still in its infancy. Surely in the next few decades, software will have advanced enough to equip robots with a basic form of self-awareness that would make them capable of autonomous speech and actions -- in essence giving them their own personalities.
There are myriad companies (and hobbyists) that are looking to bring commercially available humanoid robots to the general public -- Honda, Tosy, Alderbaran Robotics, and Mitsubishi Heavy Industries, to name a few. These, for the most part, are made with common core components such as actuators (providing a certain degree of freedom, or DOF, through the use of motors, hydraulics, or pneumatics); sensors (providing everything from safety to environmental awareness including proprioceptive and exteroceptive); and programming that allows for basic functions/interactions for everything from museum greetings to dancing.
Some are even taking their robotic constructs to the next level, like that of researchers from the University of Genova, who are developing synthetic skin that entirely covers humanoid robots. The skin is outfitted with embedded sensors that can detect pressure and shapes when it comes in contact with various surfaces and objects. It's some of these upgrades (AI, skin, etc.) that inspire a certain fear in some of what is commonly known as the "robot apocalypse."
We've all heard it before since their inception: "Robots will destroy us all!" The robot apocalypse has become so hyped that it's become a cliché. The notion has so been widely reiterated in the mainstream media -- especially through films such as the Terminator series, iRobot, and the short film, Bad Robot -- that some in the education field have taken notice and have proposed a closer examination of the subject.
Researchers from the University of Cambridge are looking to incorporate a new, multidisciplinary research center that would be dedicated to studying extinction-level risks from biotechnology, robotics, nanotechnology, artificial intelligence, and climate change. The center will be known as the Centre for the Study of Existential Risk. They plan to tap some of the predominant scientific minds to "take on the task of ensuring that our own species has a long-term future."
As much as it sounds like an article straight from the Weekly World News (remember Batboy?), the notion of a robot uprising is taken very seriously by Cambridge researchers, who have recently released an article (by Cambridge philosophy professor Huw Price and "Invited User" Jaan Tallinn) outlining their concerns.
The gist of their remarks is that one day computers will not only become as smart as people but will eventually surpass us in intelligence. According to the article, "robots may not become malicious but rather their interests may not include us," which, in itself, gives the researchers their concern for the future. Sure, there's the potential for destruction when it comes to any technology (look at the effects of nuclear power), but how we use it can mitigate those threats.
We can implement Issac Asimov's Three Laws of Robotics, we can limit AI through programming, and we need not fear the future of technology -- especially when it comes to our future robotic friends.
Related posts: