The technology focus for wind turbine operators is squarely on refining operating efficiencies and minimizing downtime -- in pursuit of the ultimate goal of a 20-year design life. By providing a window into the details surrounding the operation of the gearbox and turbine blades, automation and motion control is at the forefront of the technology push.
Conditioning monitoring is the new buzz phrase as automation and control suppliers work with turbine operators to maximize system performance and develop tools for remote software troubleshooting and diagnostics.
The 20-year design life target
"The key issue in terms of new technology for wind turbines is increased reliability, which automatically leads to the need for conditioning monitoring and a process for taking preventive actions," Parveen Gupta, regional vice president of renewable energy for Bosch Rexroth, told us. "One way to increase reliability is to have a continuous indication of operating conditions and the ability to take corrective or preventive actions based on the conditions."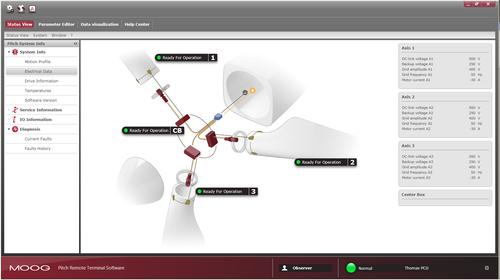 In terms of reliability, the target design life for gearboxes used in wind turbines is 20 years. But operators in the field are finding that gearboxes typically need major repairs or replacement in five to seven years. Replacing the gearbox means both a significant cost and downtime for the turbine owner.
If the operator can monitor the turbine's condition and performance, it makes it possible to reduce downtime by identifying damage and developing plans to minimize the time required for a gearbox replacement. In some cases, if the damage is caught early, it can be repaired without replacing the gearbox. The overall focus on reliability and condition monitoring is a way for operators to guarantee investments will perform effectively over the long haul.
"We are developing new products and testing them with selected wind turbine OEMs in the areas of both blade and gearbox condition monitoring," Gupta said. "Blade conditioning monitoring is aimed at detecting problems such as an ice deposit or a crack in the blade."
Most of the focus has been on integrated systems (both hardware and software). Hardware includes RTDs that are installed in the gearbox and sensors that can be embedded into the wind turbine blades to sense additional deflection or added weight. The software constantly monitors these functions and interprets the data to decide when to take corrective action. With blades that are cracked, for example, it's possible for the system to check for different vibrations or frequency responses. This type of monitoring might be integrated into a package for end customers to upgrade the monitoring capabilities of turbines in the field.