In 20 years, what will the typical work day be like? That is the question the Working Worlds in 2030 project is trying to answer.
Architecture and design students at the Universities of Darmstadt and Detmold have been working on solutions for the working world of the future, and their concepts, based in part on products from Bayer MaterialScience, were presented by future_bizz at Orgatec in Cologne. Their creative approaches are based on scenarios that employees will face in the future: Working conditions, performance requirements, and responsibilities of employees.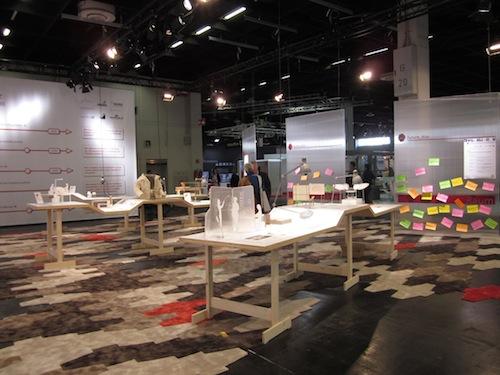 The students were given fictitious descriptions of typical employees during a typical work day in the future. This allowed students to combine the factual information about the working world of 2030 with emotional aspects.
"Their concepts therefore reflect more accurately the daily work of the protagonists, their culture, and individuality," said Dr. Lorenz Kramer, innovation manager in the new business unit at Bayer MaterialScience, in a press release.
An example concept is the "AdPack," which is a backpack that works as a mobile office by turning into a chair or lounger. A large, folding touchscreen, that can open over the user's head, is also integrated into the backpack. To manufacture the AdPack, polymer products, including rollable OLED films, could be used.
If privacy is something you need during the workday, you could opt for the Private Device option, which forms a closed tent with wings. This could be made with electroactive, switchable polycarbonate films, and would allow the worker to be completely secluded and have a quiet area to work in.
The "Sky Hangar" is another concept for use as a temporary workspace. The modular office container system is flexible, designed for sustainable assembly and disassembly for many different work situations. Once you use it for one work project and take it down, it can be reconfigured and transported to the next location. Materials recommended for this include polycarbonate for lightweight glazing, and lightweight, rigid PU foam composite systems for temperature insulation.
Some other questions asked were: How will IT devices influence the working environment in the future? How will the trend towards virtualization change offices and work tools? What will the workplace be like for people who primarily work in networks or projects?
What are some of your ideas and solutions to the proposed questions for the working day in 2030? Tell us in the comments section below.
Related posts: