Robots have been going into space for a long time, as satellites, probes, and landers. One of the earlier robotic probes, the Voyager 1, launched in 1977, is still operating, and will soon leave the solar system along with Voyager 2. Other robotic spacecraft include the Juno, which is on its way to Jupiter; the Curiosity Mars rover, described below; and various Mars landers and space probes.
But some space robots don't get quite that far. Instead, they're either up in the International Space Station orbiting Earth, being tested as reentry vehicles in low-Earth orbits, or still on Earth undergoing R&D.
Click on the image below to see 13 examples of these space-worthy machines.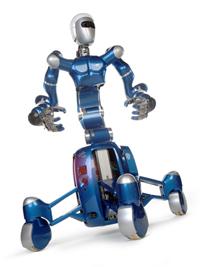 Related posts:




3
As energy efficiency becomes more and more a concern for makers of electronics devices, researchers are coming up with new ways to harvest energy from sound vibration, footsteps, and even electromagnetic fields in the air.

1
Watch IBM's atomic scale stop motion film about, you guessed it, a boy and his atom.

0
The government wants to study your brain, and DARPA wants to use similar information to give robots true autonomy beyond any artificial intelligence developed to date. Sound like science fiction? It's not.

5
By refining topologies and using new fluid technology, Moog's new peak sine drive controller increases available power without increasing controller volume.

8
Researchers from MIT and Harvard have designed a 3D printed robot that crawls like an inchworm and can self-assemble with an electric jolt.


A quick look into the merger of two powerhouse 3D printing OEMs and the new leader in rapid prototyping solutions, Stratasys. The industrial revolution is now led by 3D printing and engineers are given the opportunity to fully maximize their design capabilities, reduce their time-to-market and functionally test prototypes cheaper, faster and easier. Bruce Bradshaw, Director of Marketing in North America, will explore the large product offering and variety of materials that will help CAD designers articulate their product design with actual, physical prototypes. This broadcast will dive deep into technical information including application specific stories from real world customers and their experiences with 3D printing. 3D Printing is




Datasheets.com Parts Search
185 million searchable parts
(please enter a part number or hit search to begin)