When standard equipment proved to be too heavy and underpowered for spraying operations in fields laden with heavy clay and gumbo-like soil, Bossuyt Brothers Farms designed a unique, lightweight solution using standard, off-the-shelf components and an electrohydraulic controller. The resulting hydraulic four-wheel-drive assist system provides consistent operation of the front wheels even in highly dynamic, high torque conditions.
"The OEM equipment is just too heavy and underpowered to operate effectively in our fields," Corey Bossuyt said in an interview. "We needed something a lot lighter with a better power-to-weight ratio and, as it turned out, the only way to get it was to build it ourselves."
Bossuyt Farms has experience with truck frame sprayers that essentially utilize a standard pickup truck for the engine, powertrain, and cab. These systems were light enough to maneuver in the fields, but only provided rear-wheel-drive operation, and not the four-wheel drive needed for wet field conditions.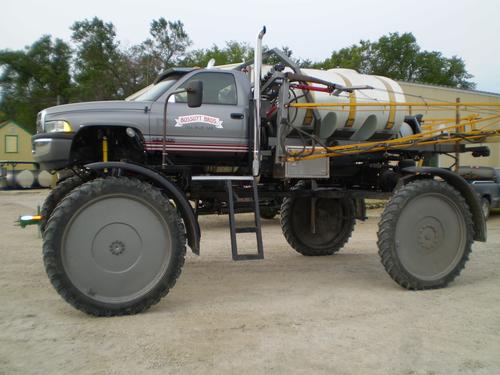 "There simply is no practical way to get mechanical power to the front wheels because they're mounted on long drop steering spindles to achieve the necessary crop clearance," Bossuyt told us. So the solution was to explore the possibility of driving the front wheels hydraulically.
Bossuyt Brothers Farms produces cereal and oil seed crops on 3,800 acres of clay/gumbo soil near Oak Bluff, Manitoba, in Canada's Red River Valley. "The wet weather soil conditions are challenging, particularly so for the commercially built spraying equipment currently available from a variety of manufacturers," said Garett Aubin, a technical support and system designer at HyPower, a full-line hydraulics distributor in Winnipeg.
HyPower proposed a hydraulic front-wheel-assist system consisting of hydraulic two-speed wheel motors powered by an Eaton 72400 hydrostatic pump that works through a positraction flow divider. The system also uses a 26000 Series gear pump to operate the spray pump, booms, and other auxiliary equipment. Everything in the system is programmed and controlled using an Eaton EFX 1624 electronic controller.
Aubin told us:
One of the challenges we faced was providing consistent and accurate flow to the front wheel motors even when the automatic transmission on the truck's powertrain downshifts in high torque situations. Because the hydrostatic pump is driven directly from the truck's engine, we have to deal with varying pump input speeds, as well as changing flow requirements based on ground speed and separate motor displacements depending on whether [you are] in high- or low-speed mode. This is where the F(x) controller really proved itself.