Technology deep dives, trackside insights, scorching heat, pictures, memories, and a spectacular race that saw the season's points leader crash early and later return to the track, highlighted the last Speed2Design event of the 2012 IndyCar season.
That's what five lucky engineers took home after three days here, Sept. 13-15, part of a season-long program from Littelfuse designed to get engineers talking to engineers about some of the most advanced vehicles on the planet. During five race events, about two dozen engineers got a chance to spend time in the pits and in the garages, chatting with engineers from KV Racing Technology (sponsored by Mouser, Littelfuse, and other technology companies), watching practice and qualifying, and getting up close and personal insights on bleeding-edge automotive technology.
Click on the image below to see some outtakes from the program's stop in Fontana, Calif., for the MAVTV 500, Sept. 14-15, 2012.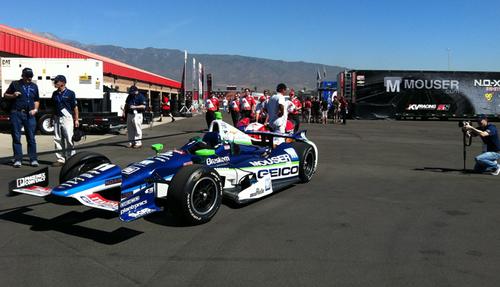 What it sounded like
The MAVTV 500 was the last of the 16-event IndyCar 2012 season. The Littelfuse-sponsored Tony Kanaan No. 11 car led for several laps during the race, but Kanaan spun out with eight laps remaining and finished 18th. Ed Carpenter won the race, which started with track temperatures around 125F. Kanaan, 37, finished ninth overall for the season with KV Racing Technology engineering supporting him. Ryan Hunter-Reay took the season points championship. Here's a short clip of what it looked and sounded like:
Learn more about the Littelfuse Speed2Design program here.
Related posts:
This story was originally posted by EE Times.