We've reported on Roomba-like robots that mow your lawn. Now, one with a wide-angle camera for conducting under-vehicle security checks helped to patrol the Republican National Convention.
General Robotics' Ferret is a four-inch-high, 14-inch-diameter, disk-shaped robot camera used for inspecting under vehicles. Constructed of anodized aluminum with a high-impact polycarbonate cover, the radio-controlled robot transmits real-time color, wide-angle video images via UHF wireless to an operator up to 100 meters away.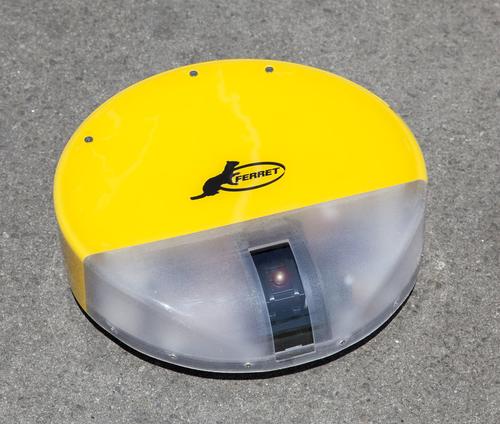 Operators view the pictures with high-resolution 640 x 480 video glasses, or optional video monitors. The video signal can also be recorded or streamed to a remote location. An extended range option provides a long-range antenna for operation up to 300 meters between the operator and the robot.
The Ferret's movable camera can be tilted to many different angles. Camera angle and the amount of light from its onboard LEDs can both be controlled remotely. Previous methods of searching for bombs and explosives, such as driving a vehicle over a fixed digital scanning ramp, provide only flat images. In contrast, the Ferret is especially useful for seeing up and around drive shafts and into deep wheel wells. (Watch a video demonstrating the robot below.)
At the Republican National Convention, the robot was reportedly used by the Tampa Bay Regional EOD (Explosive Ordnance Disposal) response team and the Secret Service. It has also been field tested by the New York Police Department's bomb squad for first-look applications.
The robot's manufacturer, General Robotics, is a subsidiary of Panoscan, inventor of the MK-3 high-resolution, rotating, 360-degree digital panoramic camera used by the New York Police Department for capturing crime scene data.
The robot, the video belt pack receiver, and the video glasses are all powered by rechargeable batteries. Typical battery run times per charge are about three hours for the Ferret, six hours for the video receiver, and about five hours for the video glasses. The Ferret weighs 8.8 pounds with battery installed and has a one-inch ground clearance. The robot operates on most paved surfaces. Its maximum speed is 3 mph. Its three wheels include one swivel caster and two wheels driven by a direct precision planetary drive.
Related posts: