Boeing and the Johns Hopkins University Applied Physics Laboratory (APL) have demonstrated the ability of autonomous unmanned aerial vehicles (UAVs) to fly in a swarm. Without using a ground control station, operators communicated with the UAVs, got information from them, and gave them tasks to perform.
Recently conducted tests in Oregon used two ScanEagle UAVs that completed tasks faster and more efficiently by communicating and cooperating with each other. The operator, who had limited flight training, commanded both UAVs with a military radio and a laptop. The UAVs were developed by Insitu (a Boeing subsidiary) and used swarm technology developed by the APL.
Swarming flying robots and UAVs are a popular topic these days (on this site and elsewhere). Boeing is developing UAV swarm technology as part of its mission to deliver a continuous, coordinated flow of information (including data collection, aggregation, and analysis) that gives soldiers situational awareness. Last year, Boeing and the APL conducted two tests of different unmanned vehicle platforms operating in air, land, and sea domains. Those vehicles communicated and collaborated with each other to conduct searches autonomously.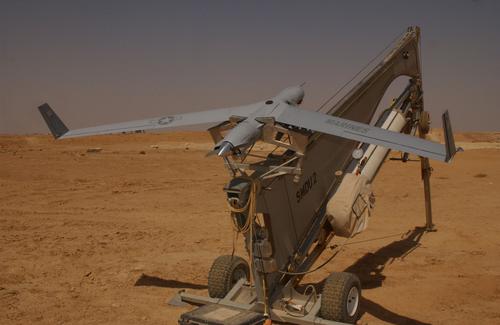 Boeing says ScanEagle vehicles can be deployed either individually or in groups to monitor trouble spots, relay communications, provide data to troops.
Each ScanEagle carries either an infrared camera or an inertially stabilized electro-optical camera for tracking stationary and moving targets. The vehicle is four feet long and has a 10-foot wingspan. It can fly at altitudes above 16,000 feet and can remain in flight for more than 15 hours. Versions that can stay aloft for more than 30 hours are planned.
A pneumatic wedge catapult launches the UAV, which is guided by an onboard flight-control system and GPS. It can fly pre-programmed or operator-initiated missions. It is retrieved using a skyhook system, so it does not need a runway and can operate from small ships, mobile vehicles, or forward fields.
In previous demonstrations, streaming video and voice over IP communications were used to send information over a secure high-bandwidth network from a ground control station to a ScanEagle 18 miles away, which then relayed the information immediately to ground personnel six miles from the UAV. The new system allows time-critical information to be sent directly to soldiers without being relayed from ground control stations. This is a key component in the military's goal of situational awareness for troops.
ScanEagles, which made their first flight in 2002, are used by the US Navy, the US Marine Corps, and the UK Ministry of Defence's Joint UAV Experimentation Programme.
Related posts: