Robots that fly are usually small. Aside from that shared feature, they vary widely in design and purpose. Some flap their wings or soar like birds, while others are patterned after land animals. Yet others move in ways that are clearly mechanical, such as quadrotors, also called quadricopters, or ornithopters. Many work in swarms, communicating and cooperating among each other to accomplish different tasks.
Flying robots may assist soldiers in battle as an alternative to unmanned aerial vehicles (UAVs), or provide reconnaissance and surveillance for human first responders in post-disaster situations. Others may replace large, imprecise, soil-damaging agricultural equipment for targeted crop dusting, or assemble architectural structures. Many are autonomous, some are remote-controlled, and some can do both: autonomous robots with real-time communication from remote pilots.
Click on the image below to see 11 flying robots in action.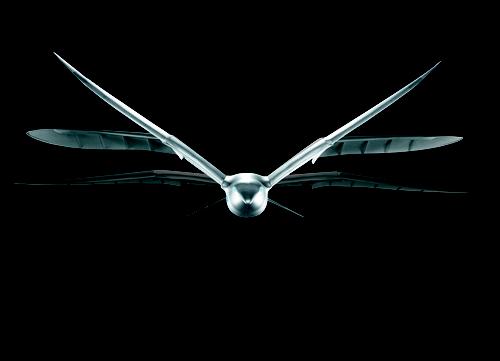 Related posts:




16
Robots that walk have come a long way from simple barebones walking machines or pairs of legs without an upper body and head. Much of the research these days focuses on making more humanoid robots. But they are not all created equal.

5
The IEEE Computer Society has named the top 10 trends for 2014. You can expect the convergence of cloud computing and mobile devices, advances in health care data and devices, as well as privacy issues in social media to make the headlines. And 3D printing came out of nowhere to make a big splash.

11
Easy home automation comes with a new Kickstarter project, the smart power strip. It controls various AC outlets with a wireless controller and a smartphone app.

4
Czech Republic-based Keen Software House recently released a game with a new twist on game play and learning. The game is Space Engineers. People play as engineers in space, as the title implies.

4
The idea of having everything connected to everything is quite intriguing and opens up a wealth of opportunities.


LATEST ARCHIVED BROADCAST
For industrial control applications, or even a simple assembly line, that machine can go almost 24/7 without a break. But what happens when the task is a little more complex? That's where the "smart" machine would come in. The smart machine is one that has some simple (or complex in some cases) processing capability to be able to adapt to changing conditions. Such machines are suited for a host of applications, including automotive, aerospace, defense, medical, computers and electronics, telecommunications, consumer goods, and so on. This discussion will examine what's possible with smart machines, and what tradeoffs need to be made to implement such a solution.



Datasheets.com Parts Search
185 million searchable parts
(please enter a part number or hit search to begin)