Medical robots (a frequent topic here) are popping up everywhere, whether they're being used in surgeries, assisting paralyzed people, or monitoring remote patients. The latest one helps cardiologists in a type of surgery called percutaneous coronary intervention (PCI), which uses stents and balloon catheters to restore blood flow to blocked arteries.
The FDA has approved Corindus Vascular Robotics' CorPath 200 for PCI surgery. Like other robotic assistants, the CorPath 200 gives surgeons very precise control over fine-tuned tasks, such as manipulating coronary guidewires and stents. It lets them move surgical devices and tools in increments as small as 1mm in blood vessels only 3mm or 4mm in diameter.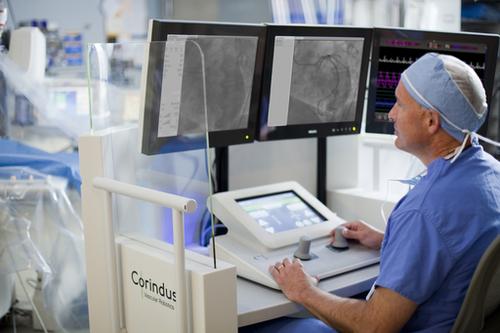 The system also helps interventional cardiologists remain at a safe distance from the radiation produced by the X-ray guidance systems they use to perform these procedures. To protect themselves, cardiologists have worn restrictive lead aprons weighing up to 40 pounds, but the physical stress of wearing them can lead to back pain, fatigue, and orthopedic injuries. It's also not clear from the research that's been done whether this protection is adequate over a career that involves repeated exposures.
The CorPath 200 lets surgeons control placement of coronary guidewires, stents, and balloon catheters from a lead-lined cockpit. The surgeon is seated in front of monitors that show the angiography screen. This setup may reduce physical fatigue and head, neck, and back strain. (Watch a video demonstrating the robot here.)
As the basis for submitting its application to the FDA, Corindus conducted a multi-center study, the CorPath PRECISE Trial. The company says this study resulted in an overall procedure success rate of 97.6 percent. Also, in 98.8 percent of patients, PCI surgery could be completed without converting to manual PCI and without device-related complications. The study also found the system reduced radiation exposure by 95 percent.
Corindus says that it expects to use the system's open platform technology and intellectual property to address other types of vascular surgery, including peripheral, neuro, and structural heart applications.
Related posts: